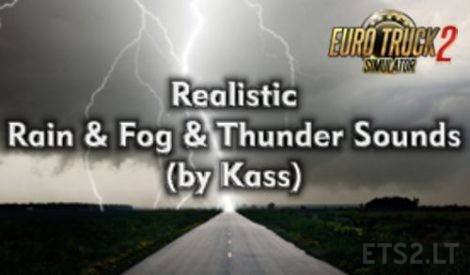 Features In Rain & Thunder Sounds In V1.5 Version:
* Compatible To Work With ETS Game Version 1.31.x & 1.32 BETA
* 4 Realistic Thunder Sounds.
* Realistic Thunder Sounds Inside Cabin & Outside Cabin Of The Truck.
* Realistic Rain Drops/Windshield Effects etc.
* Works with some other Weather/Enviroment mods.
* Rain Improved In 1.5 Version
*Log Free/ No Errors
Note: This is not new video. Its from 1.4 version.
Video Courtesy and Thanks To FoxontheBox
SCS Forum:
https://forum.scssoft.com/viewtopic.php?f=34&t=204014
Plz Do not Re-upload to any other host site keep the original download links and if u post else where give the proper credits, Thanks.
Credits:
Kass
DOWNLOAD 69 MB [Sharemods]
DOWNLOAD 69 MB [Modsbase]