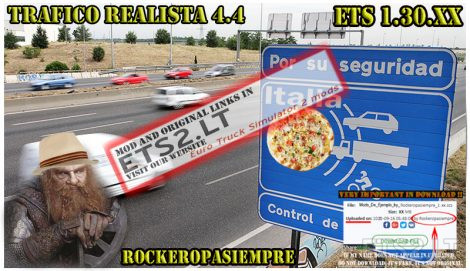 Realistic traffic 4.4 by Rockeropasiempre for V_1.30.XX
Update of mod.
Realistic traffic 4.4 by Rockeropasiempre for V_1.30.XX
PROHIBITED TO RESUB THE MOD TO ANY SERVER WITHOUT PERMISSIONS.
Changes in version 4.4
– Adjusted and increased the speed of the more than 32 new vehicles that have added to the base game.
– Slightly increased the speeds of Italian vehicles, as well as Italian trains or trams. (Shorter time of our wait at the traffic lights of the level crossings).
– Compatibility of the mod with the new version 1.30.XX.
– Conversion of .pmg and .mat files to those of the new stable version.
– Removed all obsolete old attributes and modified the ai_drag_lent parameter.
– Updated the traffic_data file.
– Updated the semaphore behavior files to include those from Italy.
– Gamelog clean.
– For those who use the version of this mod with sounds, the sound of 3 AI horns has been modified. Also the sound of buses and trucks on the road.
– The behavior of the drivers is, as always, not very jovial, unpleasant, and very impatient (they immediately touch the horn to move you).
– Behavior in overtaking and flashing lights times adjusted to this version.
General Specifications of the mod:
– 2 Versions inside the rar file. One normal, and one that does not include sounds (NO EXTRAS). Choose one of the 2.
– Mods manager: Always place on top of any AI traffic mod you have.
– Multitude of different colors for AI cars.
– Increase in overall volume of traffic on all roads.
– Less patience in the behavior of AI drivers.
– Descent of police cars
– Compatible with all AI traffic mods-packs.
– Traffic behavior of the AI ​​totally different from that of the original game.
– Complete information inside the downloaded rar. File INFO.txt and README.txt
Author:
Rockeropasiempre
Weight of the winrar file: 130 Mb
regards
Credits:
Rockeropasiempre
DOWNLOAD 130 MB