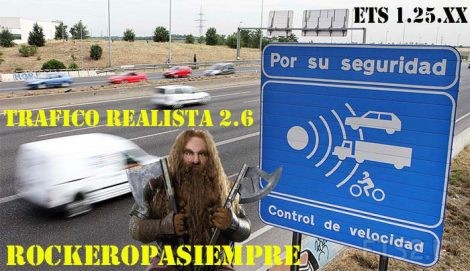 Hi kids. I leave here the new version of Realistic Traffic 1.25.XX updated for version of Euro Truck. This time there are two versions, the typical usual, and a second that does not incorporate changes neither realistic sound for traffic lights.
I recommend the full video to choose the one you like.
(Recommended full mod.)
The Mod AI_Trafico_Realista_2.6_NO_EXTRAS does not include sounds or modified traffic lights.
New in this version:
– Increased use and even more intermittent time of AI, to notify you before changing lanes or maneuvering.
– Slight increase lane change, so that adelantemientos be a little longer than before.
– Patience and property nuevemante Traffic Safety IA to avoid stoppages on high-speed roads.
– Fixed bug that marked speed limit for cars in the UK too high.
– Fixed bug that marked urban boundary in high Germany and out as heck.
– Reduced speed of AI with fog and rain.
– Added New Packs traffic IA. Consult the info file
AI_Trafico_Realista_2.6
=======================
– Drivers little patient with the horn.
– Resumed quickly after each other or you have an accident.
– Reaction time after accident reduced. They leave almost immediately, not to create traffic jams.
– Level IA moderate behavior. Modified caution, patience and time it.
– They warn with longer intermittent lane change, to react before.
– Changes lane highway the longer IA.
– They take longer overtaking and not make such radical changes.
– Spaced the safety distances of cars trucks and buses.
– Speed ​​of the AI ​​in tight corners reduced.
– Modified all speed limits in cities of the original map (except UK).
– Changed speed limits on expressways. (All of Europe, except Germany (no limit), only for some vehicles IA).
– Changed speed limits on conventional roads in all countries and cities.
– Changed speed limits and highways in Asia, South America and countless countries.
– Increased speed of all vehicles in the game. (No always go to the limit), except:
Audi A3, BMW5, Jaguar and Citroen C4 exceeding 250 km / h. (In Germany you will sanded few others).
– Increased the speed limit for all trucks of the game (more than 100 km / h on some trucks.)
– Increased the speed limit on all buses in the game (more than 120 km / h in some buses.)
– Slightly reduced waiting times at traffic lights, Tolls, petrol station exits and junctions, not to create traffic jams reach.
– Increased the amount of general IA, but not to create but moderate lag.
– Reducing speed AI rain or fog.
MAP WITH ANY FUNCTIONAL.
– Cities TSM.
– Cities of South Korea Map.
– Cities Rus Map.
– Cities of Hungary Map.
– Cities MHAPro Map.
– Brazil Map Cities EAA.
– Cities of Mario Map.
– Cities Promods.
– Cities of Russian Open Spaces.
ADDED CITIES:
Albania, Algier, Andorra, Argentina, Austria, Belarus, Belgium, Belorus, Bolivia, Bosnia, Bracco, Branor, Brante,
Brazil, Brasud, Brasul, Bulgaria, Cajati, Chile, Colombia, Croatia, Czech, Denmark, Ecuador, Egypt, Eldorad_eld,
El Dorado, Spain, Faroe Islands, Finland, France, Germany, Greece, Hungary, Hungary_hg, Iceland, Indones_pan, Yom,
Ireland, Italy, Jacupiranga, Jersey, Latvia, Libya, Liecht, Lithuania, Lostland, Luxembourg, Moldova, Morocco,
Netherlands, NIreland, Norway, Orkney, Paraguai, Paraguay, Pariquera, Peru, Poland, Portugal, Romania, Russia,
Serbia, Setebarras, Slovakia, Slovenia, Slovenija, south_korea, Spain, Sweden, Switzerland, Taiwan, Timura, Tunis,
Turkey, Ukraine, Uruguai, and Uruguay.
CHANGES ADDED TO THE FOLLOWING PACKS IA:
– AI Traffic jazzycat pack.
– AI Traffic brasilian jazzycat pack.
– AI Traffic russian jazzycat pack.
– AI Trafic Bus Jazzycat pack.
– Truck traffic AI jazzycat pack.
– Painted truck traffic AI pack Jazzycat
– Big Bus AI Solaris36 V4.
– AI Europolice Solaris36 V4.
– AI Asphalt8_traffic_pack
– AI PACK tráfego of Caminhões Brasileiros V.3.5
– AI PACK tráfego de Carros Brasileiros V.2.5
– AI TRAFFIC TDU
A TOTAL OF 1216 AND AMENDED ITS ORIGINAL INTEGRATED SPEED VEHICLES.
NOTE: IF YOU HAVE A PACK OF WHICH IS NOT INCLUDED IA, it works perfectly,
SPEED LIMITS BUT THE VEHICLE SHALL BE MARKED BY OWN PACK.
TRAFFIC LIGHTS ONLY IN FULL VERSION:
– Added flarepack mod abasstreppas lights, which makes traffic lights
they are much more real.
SOUNDS ONLY IN FULL VERSION:
– Modified sounds refueling.
– Modified sounds of AI.
– Modified sounds ferry.
– Modified sounds dreams of drivers.
– Modified parking sound.
Download the .rar file and choose the mod that you like.
Please respect the author's original link.
regards
Author: Rockeropasiempre
DOWNLOAD 53 MB