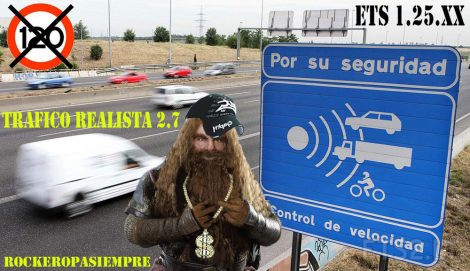 Good again. I have finished updating the mod few days ago.
General description:
AI_Trafico_Realista_2.7
=======================
– Drivers little patient with the horn.
– Resumed quickly after each other or you have an accident.
– Reaction time after accident reduced. They leave almost immediately, not to create traffic jams.
– Level IA moderate behavior. Modified caution, patience and time it.
– They warn with longer intermittent lane change, to react before.
– Changes lane highway the longer IA.
– They take longer overtaking and not make such radical changes.
– Spaced the safety distances of cars trucks and buses.
– Speed ​​of the AI ​​in tight corners reduced.
– Increased speed of all vehicles in the game. (No always go to the limit), except:
Audi A3, BMW5, Jaguar and Citroen C4 exceeding 230 km / h. (In Germany you advance as there is no limit).
– Increased the speed of the game all trucks (over 100 Km / h on some trucks.)
– Increased the speed of the game all buses (over 120 Km / h in some buses.)
– Slightly reduced waiting times at traffic lights, Tolls, petrol station exits and junctions, not to create traffic jams reach.
– Increased the amount of general IA, but not to create but moderate lag.
– Reducing speed AI rain or fog.
– Removed some functions to prevent vehicles float or sink.
– Speed ​​limits of each original country, maximum speed marked on the map itself you play.
– Slight increase in loads in the evening hours.
MAP WITH ANY FUNCTIONAL.
New in version 2.7.
====================
SOUNDS. (WATCH VIDEO).
– Modified sounds refueling.
– Modified sounds of AI.
– Modified sounds ferry.
– Modified sounds dreams of drivers.
– Modified parking sound.
– Modified sound of music trains at level crossings.
– Modified sound in the works of the roads, workers sing.
– Modified sound garage door with barking dogs.
TRAFFIC LIGHTS:
– Added flarepack mod abasstreppas lights, which makes traffic lights
they are much more real.
– They have left the speed limits of the countries in the default, to try to avoid problems of vehicles that float or sink into the asphalt.
All the fellow pack jazzycat updated, have been incorporated for changing speeds.
CHANGES ADDED TO THE FOLLOWING PACKS IA:
– AI Traffic jazzycat pack 3.8.1.
– AI Traffic brasilian jazzycat pack v1.3.2.
– AI Traffic pack jazzycat russian v1.6.2.
– AI Trafic Bus Jazzycat pack v1.3.3.
– Truck traffic AI v2.3.1 jazzycat pack.
– AI American_truck_traffic_pack_by_Jazzycat_v1.3.2
– AI Painted truck traffic Jazzycat pack v2.3.1.
– Big Bus AI Solaris36 V4.
– AI Europolice Solaris36 V4.
– AI Asphalt8_traffic_pack
– AI PACK tráfego of Caminhões Brasileiros V.3.5
– AI PACK tráfego de Carros Brasileiros V.2.5
– AI Vehicle TDU for 1.25.X.
A TOTAL OF 1299 AND AMENDED ITS ORIGINAL INTEGRATED SPEED VEHICLES.
NOTE: IF YOU HAVE A PACK OF WHICH IS NOT INCLUDED IA, it works perfectly,
SPEED LIMITS BUT THE VEHICLE SHALL BE MARKED BY OWN PACK.
AI_Trafico_Realista_2.7 NO EXTRAS
=================================
ALL LIKE THE NORMAL VERSION, EXCEPT THAT THE VERSION "NO EXTRAS" NOT CHANGE OR PLAYS
SOUNDS OR LIGHTS
Author: Rockeropasiempre
File weight: 53.4 Mb
Note: A winrar file. Inside are the two versions.
Unzip the files and place .scs in the mods folder.
Activate only one in the manager, or normal, or the version no extras.
Please respect the author's original link.
Author: Rockeropasiempre
DOWNLOAD 53 MB