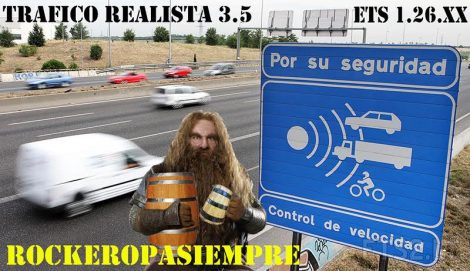 General Specifications of the mod:
– Behavior of AI traffic totally different.
– Complete information inside the downloaded rar. File INFO.txt and README.txt
– 2 Versions inside the rar file. One normal, and one that does not include sounds (NOT EXTRAS). Choose one of the 2.
Mod Manager: Always place on top of any AI traffic mod you have.
New in version 3.4
– Updated bus_traffic_pack_by_Jazzycat_v1.6
– Updated truck_traffic_pack_by_Jazzycat_v2.4
– Updated Painted bdf traffic pack by Jazzycat v1.5
– Updated painted_truck_traffic_pack_by_Jazzycat_v2.9
– Updated ai_traffic_pack_by_Jazzycat_v4.2
– Modified time parameters and intersection waits.
– Modified times and behavior in overtaking.
– Modified times of stay of AI traffic in road / screen.
– Decreased AI traffic safety on Autovía, so they do not stand in the middle of the road.
– Compatible with a total of 1570 different vehicles including vehicles, trucks, buses and vans.
Author: Rockeropasiempre
File Size: 137.1 MB
Please respect original download link. Thank you.
Note: Some people ask me why after using the full version, and then switching to the no extras,
they still listen to the sounds of the full version.
This is easy to correct and you can apply it to any other mod (especially of sounds).
This is to close the game, and look in the folder Euro Truck Simulator these two files:
game.log.txt, and game.crash.txt and delete them.
Then start the game normally and the problem will be solved.
This is convenient to do when we are activating and deactivating mods,
since these files save part of the information, and therefore the problem happens;).
Credits:
Rockeropasiempre
DOWNLOAD 137 MB