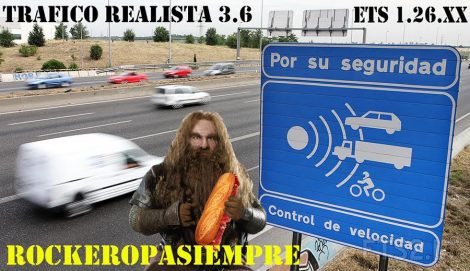 General Specifications of the mod:
– Behavior of AI traffic totally different.
– Complete information inside the downloaded rar. File INFO.txt and README.txt
– 2 Versions inside the rar file. One normal, and one that does not include sounds (NOT EXTRAS). Choose one of the 2.
Mod Manager: Always place on top of any AI traffic mod you have.
ADDED MODIFICATIONS FOR THE FOLLOWING AI PACKS:
– AI Traffic pack jazzycat 4.3
– AI Traffic pack brasilian jazzycat v1.3.3
– AI Traffic pack russian jazzycat v1.7
– AI Painted truck traffic pack Jazzycat v3.0
– AI Painted bdf traffic pack by Jazzycat v1.5
– AI Bus Trafic pack Jazzycat v1.7
– AI Truck traffic pack jazzycat v2.4
– AI American_truck_traffic_pack_by_Jazzycat_v1.4
– Traffic Europolice v5 for ETS 1.25.x by CyrusTheVirus
– AI Big Bus V4 Solaris36.
– AI Europolice V4 Solaris36.
– AI Asphalt8_traffic_pack
– AI Vehicle TDU for 1.25.X.
– Marcopolo Paradiso G7 in AI Traffic
New in version 3.6
– Added Marcopolo Paradiso G7 in AI Traffic
– Updated bus_traffic_pack_by_Jazzycat_v1.7
– Updated painted_truck_traffic_pack_by_Jazzycat_v3.0
– Updated AI Traffic Pack v4.3 by Jazzycat [1.26]
Author: Rockeropasiempre
File Size: 137.1 MB
Respect original author link please. Thank you
Credits:
Rockeropasiempre
DOWNLOAD 137 MB