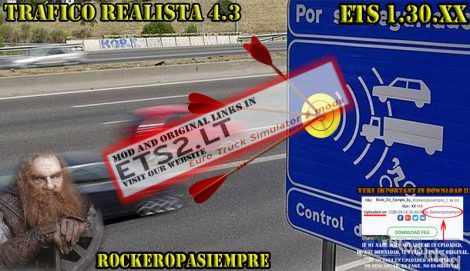 Update of mod.
Realistic traffic 4.3 by Rockeropasiempre for V_1.30.XX
PROHIBITED TO RESUB THE MOD TO ANY SERVER WITHOUT PERMISSIONS.
Changes in version 4.3
Adjusted and increased the speed of the more than 32 new vehicles that have added to the base game.
Compatibility of the mod with the new version 1.30 Beta.
Warning: The version of the game is still in beta, therefore, I will have to make some more adjustments as they regulate the amount of traffic files.
The behavior of the drivers is, as always, not very jovial, unpleasant, and very impatient. Behavior in overtaking and flashing lights times adjusted to this version.
General Specifications of the mod:
– Multitude of different colors for cars and trucks IA.
– Increase in overall volume of traffic on all roads.
– Less patience in the behavior of AI drivers.
– Descent of police cars
– Compatible with all AI traffic mods-packs.
– AI traffic behavior totally different.
– Complete information inside the downloaded rar. File INFO.txt and README.txt
– 2 Versions inside the rar file. One normal, and one that does not include sounds (NO EXTRAS). Choose one of the 2.
– Mods manager: Always place on top of any AI traffic mod you have.
Credits:
Colors for cars and trucks: Cipinho
Rockeropasiempre
Weight of the winrar file: 130.1 Mb
regards
Credits:
Rockeropasiempre
DOWNLOAD 130 MB