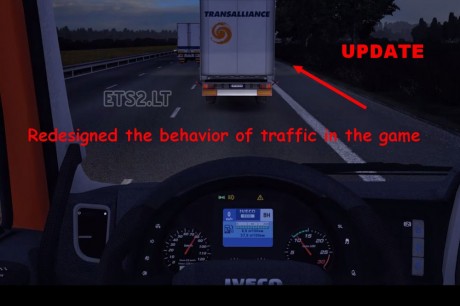 Version: 1.15.1 – 1.16.0.1
1. Change Security Settings and courtesy towards a more rigid behavior.
2. New parameters spawn traffic for a more uniform distribution of the roadway. Added slug in the right lane.
3. Now you can fine-tune the ratio of cars and traffic gruzovgo. The emergence of Thracian without trailers.
4. New motion parameters in the corners, on slopes, during acceleration, braking, overtaking.
5. Change the distance between the traffic at traffic lights and in motion.
6. Change the time to turn on headlights and turn signals blinking modes (different machines now blink in different ways).
7. setting measurable behavior in case of accidents.
installation:
Contents of the archive to unpack and place in a folder mod. If you use additional files (paragraph 2.3), they should be lower than any of cards and packs Dzhazzikata traffic.
What and when you need to connect to the profile:
1. Connect mandatory. Contains settings themselves behavior:
zzzzz_Supric_Traffic_AI.scs
2. Connect is not required. Select the file, depending on which card to play. File further increases the density of traffic in cities. For multiple cards put multiple files:
zzzzz_Supric_Traffic_Argentina_1.0.scs
zzzzz_Supric_Traffic_Default_1.16.2s.scs
zzzzz_Supric_Traffic_EastExp_5.0.scs
zzzzz_Supric_Traffic_Hungary_0.9.22.scs
zzzzz_Supric_Traffic_ProMods_1.8.4.scs
zzzzz_Supric_Traffic_RusMap_1.4.7.scs
zzzzz_Supric_Traffic_ROMap_3.9.scs
zzzzz_Supric_Traffic_TDM_1.1.scs
zzzzz_Supric_Traffic_TSM_5.4.scs
3. Connect is not required. Only for those who are using all traffic from packs Jazzycat. If you use only "a couple" of traffic packs Jazzycat – connect strictly prohibited. Fraught Departure:
zzzzz_Jazzycat_Traffic_Settings.scs
Credits:
Supric, Дима Кучко
DOWNLOAD 0.5 MB