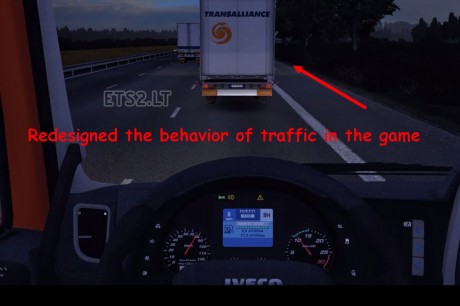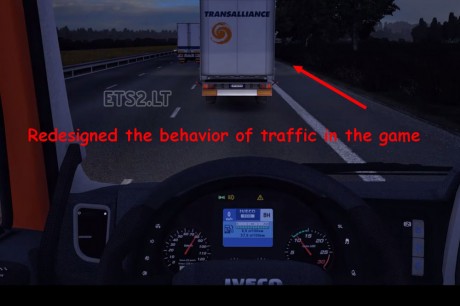 As the description may lead in an example of the response of one of the users fashion: "…adds a lot of Goodies. For example I used 99% could predict how will behave the traffic. For this flight I'm guessing 0%. The traffic became less predictable, it became more shorter cool…"
Version: 1.15.1 – 1.16.0.1
Installation:
The contents of the archive to unpack and put in the mod folder
What you need to connect your profile:
1. File zzzz70_sup_traffic.scs need to necessarily connect
2. The second file you choose depending on what map you play:
– zzzz70_sup_traffic_def (default)
– zzzz70_sup_traffic_hun (Hungary)
– zzzz70_sup_traffic_sc (ProMods)
– zzzz70_sup_traffic_tsm (TSM)
3. Only for those who use traffic from Jazzycat! include file jazz_traff.the scs. In this case, must be connected in the profile all paki traffic from Jazzycat, namely:
1. Pak passenger traffic v2.0 / AI Traffic Pack v2.0
2. Pak trucks with skins of actual companies in traffic v1.4 / Painted Truck Traffic Pack v1.4
3. Pak freight traffic v1.7 / Truck Traffic Pack v1.7
4. Pak buses in traffic v1.1 / Bus Traffic Pack v1.1
5. Pak American trucks for traffic v1.0 / American Truck Traffic Pack v1.0
6. Tuned trucks in traffic / Tuned Truck Traffic
7. Pak Russian traffic v1.2 / Russian Traffic Pack v1.2
In the absence of at least one pack mod will not work.
Author: Supric
DOWNLOAD 594 KB