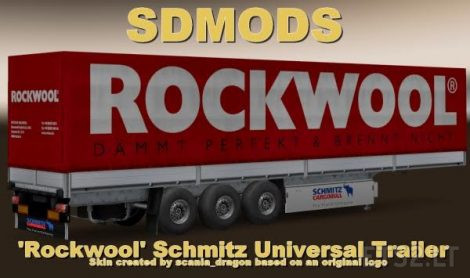 Happy new year to you all and welcome to my Rockwool Trailer v1.0.0!
This is a Schmitz Universal (Cargobull) Trailer with Rockwool Skin
The trailer was made for ETS2 v 1.26.x with the actual ETS2Studio beta-Version.
In cause of this, this package is a beta-version!
It writes Errors to the log.txt. But ingame they made no problems and run perfectly. No crashes!
Model(s): Schmitz Universal by MDModding
Skin created by scania_dragon based on an original Logos and found images
Credits: Rockwool, MDModding, SCS, scania_dragon
The trailers is standalone and given to the ai-traffic
DLC North is recommended
DLC Vive la france coming soon
Compatible to ETS2 v 1.26.x
For possibly updates please visit sdmods.de and read my blog on blog.sdmods.de
Kind regards to you, scania_dragon
www.sdmods.de
Credits:
Rockwool, MDModding, SCS, scania_dragon
DOWNLOAD 2 MB