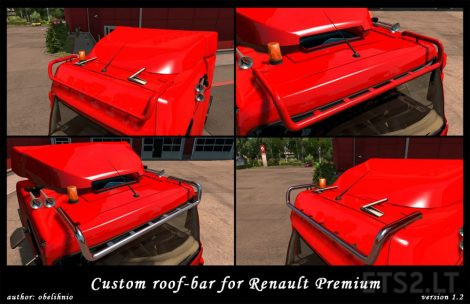 Roof bar addon for Renault Premium by Obelihnio v1.2
Works only on ETS2 v1.27.x
!!!IMPORTANT!!! Before updating to 1.2 sell your current roof-bar !!!IMPORTANT!!!
Mod includes:
– chrome/paint variant
– 10 main slots for lamps/horns etc.
– 7 slots for marker lights
– 4 extra slots for cabin mounted air horns/beacons (both cabins)
– 0/2/4 visible brackets variant on top part of the bar (16 total)
Supported trucks: SCS Renault Premium and other mods replacing the default model
KEEP THE ORIGINAL DOWNLOAD LINK AND CREDITS WHEN SHARING THE MOD ON OTHER SITES!
Mod is open to modify for personal use. SHARING THE EDITED MOD WITHOUT PERMISSION BY THE AUTHOR (Obelihnio) IS STRICLY FORBIDDEN!
Changelog:
v1.0: initial release
v1.01: minor tweaks on steel variant; all variants now use chrome mounting brackets
v1.1: Reduced number of models to 3; added variants to existing models to reduce mod size; added new slots
v1.2: Full remake of the 3d model; steel variant removed; new variants for chrome/paint
Credits:
Obelihnio
DOWNLOAD 410 KB