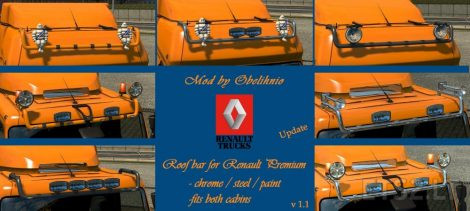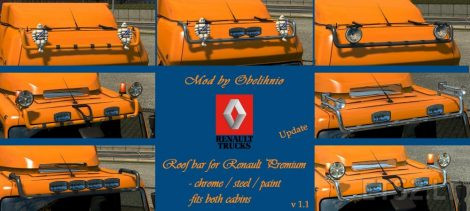 Update 1.1: Mod redone using the variant system, reduced size; added new slots
Update 1.01: minor tweaks to steel variant; all variants now use chrome mounting brackets
Mod adds a roof bar fitted to for both Renault premium cabins.
– steel/chrome/paint variant for high cabin
– steel/chrome/paint variant for low cabin
– 10 main slots for lamps/horns etc.
– 7 slots for marker lights
– additional variant for small cabin: 8 main slots, 7 marker slots; compatible with the front roof mirror
– [v1.1+ only] 4 extra slots for cabin mounted air horns/beacons (both cabins)
Compatible with SCS Renault Premium and other mods following the vanilla definitions
DO NOT REUPLOAD!
Mod is open to edits for private use.
SHARING THE EDITED MOD WITHOUT MY PERMISSION (Obelihnio) IS FORBIDDEN
Credits:
Obelihnio
DOWNLOAD 0.8 MB