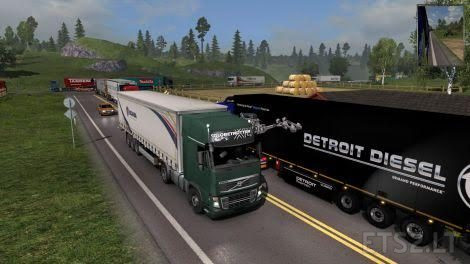 v1.2 05.02.2017
changelog:
What is new? Everything
– improved the traffic in general. better high traffic in the morning and afternoon.
IMPORTANT!!
this time i used…
uset g_lod_factor_traffic and uset g_traffic 10!!!
how to set it, see below.
but tested the traffic also with level 5, and still works nice.
for sure 1 will be also not bad. it´s up to you and your PC which level you choose.
like i said before, a good semaphore mod will help a lot at junctions. i am using still the one from brainiac.
you can find the mod here: https://www.promods.net/viewtopic.php?f=42&t=14202&p=138224#p138224
(2. part: Improved semaphore cycles)
like before.
– support for the Sound Fixes Pack from Drive Safely
– works perfect toghter with Jazzycat´s AI Cars.
– i changed some speeds and torques from the original SCS AI cars.
– the mod will work at any map.
the behavior of the AI´s are still friendly. not many stupid moves, from time to time some little accidents.
there are still many things what i wanted to try out, but mods like this will be never finished. so i update now.
the rush hour in the video will start at ~16:30 ingame time.
the qualtiy are not that well, HDR was off.
for more information, please visit the SCS forum.
http://forum.scssoft.com/viewtopic.php?f=177&t=226730&start=10
feedback always welcome.
have fun. 🙂
Credits:
Credits: D.B Creation, piva, karpiu, Frachti, supric, Tiramisu
DOWNLOAD 58 KB