Scania Fan Trailers Pack v 1.0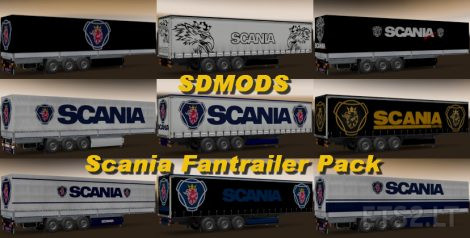 Welcome to my Scania FanTrailer-Pack v1.0.0!
In this package you can find 10 trailers with scania skins.
All Trailers are completely reworked for ETS2 v 1.26.x with the actual ETS2Studio beta-Version
In cause of this, this package writes errors to the log. But ingame it is errorfree and stable!
Models: 4x Krone Profiliner by MDModding
5x Schmitz Universal by MDModding
1x Fruehauf Maxispeed Lift by SamGT13
All Skins created by scania_dragon based on an original Logos, images and live seen trailers
Credits: MDModding, SCS, samgt13, scania_dragon
All trailers are standalone and given to the ai-traffic
DLC North is recommended
Compatible to ETS2 v 1.26.x
For possible updates please visit sdmods.de and read my blog on blog.sdmods.de
Screenshots are included in screenshot gallery: http://gallery.sdmods.de/gal00003.html
Kind regards to you, scania_dragon
www.sdmods.de
Credits:
MDModding, SCS, samgt13, scania_dragon
DOWNLOAD 40 MB
Popular mods