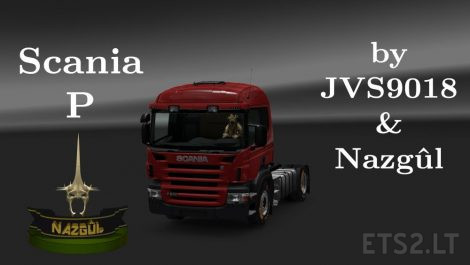 This is a rework of JVS9018's Scania P Modifications. All TOBJ, PMG, and Def errors were fixed.
This Mod has been tested only on ETS2 1.27, and isn't expected to work on any older versions.
This mod adds the Scania P for ETS2. Contains many customization options and more chassis, cabin, engine and transmission options.
Fully standalone mod, it doesn't replace anything. You can find the truck from Scania dealer.
Content list:
-Short, Day, Low, Normal, Highline and Topline cabins.
-4×2, 6×2, 6×2/4, 6×2*4, 6×4, 8×2/*6, 8×4/4, 8×4*4, 10×4/6, 10×4*6 and 10×6/4 chassis.
-Scania Euro 6 interiors.
-Euro 3, Euro 4, Euro 5 and Euro 6 engines.
-8, 9, 12 and 14 speed gearboxes with 2.71, 3.08 and 3.42 rear differentials.
-Wide range of R1, R2 and Streamline parts.
-Plastic and paintable chassis + a lot of Scania stock parts.
-Many custom and tuning parts.
-Compatible with Cabin Accessories, National Window Flags and Mighty Griffin DLCs (separate compatibility addons required)
Known issues:
-Some parts might produce a visible collision with each other. You need to choose their correct combination yourself.
You can share this on other sites but KEEP ORIGINAL DOWNLOAD LINK AND CREDITS! NO NOT REUPLOAD TO OTHER FILE SHARING SITES!
Info ETS2 mods
The mod has been tested in 1.27 without any other mods and it was working perfectly.
Credits:
JVS9018, Nazgûl
DOWNLOAD 72 MB