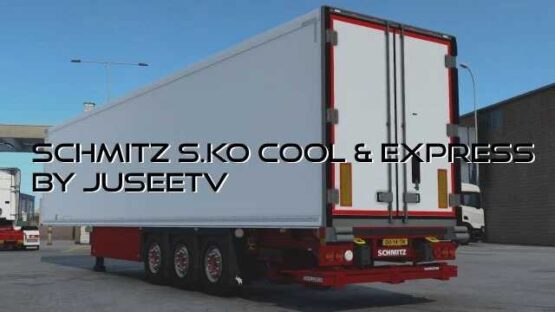 This mod reworks the Schmitz S.KO by obelihnio. With obelihnio's kind permission I am allowed to publish my edit of the Schmitz S.KO with many new parts and skins.
It is adds the S.KO Cool, with its various body options for refeered and insulated transport and the S.KO Express with its dryvan bodies to the game.
The mod comes with over 200 different skins of real-life operators and a vast amount of customisation options, like rear lights, bumpers, sideskirts, frames, fenders and many more.
Version 1.8a:
Same as Version 1.8 but includes the following fixes:
Animations updated to 1.44
Fixed various def errors
Version 1.8:
Reworked truckpaint materials
Added HCT configuration (12 axle set-ups, 6 for Cool, 6 for Express)
Added HCT tilted bumper to the Huckepack chassis & HCT chassis
Added HCT configuration to the trailer dealer
Added spare wheel cage before the axles
Added spare wheels to the spare wheel cage before the wheels
Added painted versions to all fenders
Added Parlok fenders to steered chassis
Added mudflaps to new Parlok fenders and painted fenders
Rebuilt Dhollandia folded tail lift and added: stock grey, stock black, stock paint & full paint variant
Remade slots only option Dhollandia folded tail lift
Added full-side reflective tape in yellow and white to S.KO Cool (reefer and dryvan) bodies
Added Angles Mortes stickers to the sides
Added Angles Mortes stickers to the rear
Added TIR plates open/closed
Added SBS Turtle lock to all doors
Added SBS BDL lock to all doors + roll gate
Added hazard plates to the body
Added hazard plates to the sideskirts
Added hazard plates to the rear doors
Fixed reflective tape on the roll gate for the 4.15m variant
Fixed wide mudflap for Dhollandia tail lifts
Fixed UK licenseplates on Huckepack bumper
Added new 11 skins
Credits:
Base mod: obelihnio Rework & additions: JUseeTV Skins: JUseeTV, TvKleunen, ja_scholz, Eddie Vegas, Marcus2000, COne & Dissi Testing: Arnook, Dave303, DaStrobel, Csabee, TvKleunen, Mihkel, Marmeladenheinz, Daniminho Providing knowledge, photos & textures: flignitz, Jan, Daniminho, Written Example, HR1509, Sam, MrCapital, kast, Schmitz Cargobull AG
DOWNLOAD 512 MB