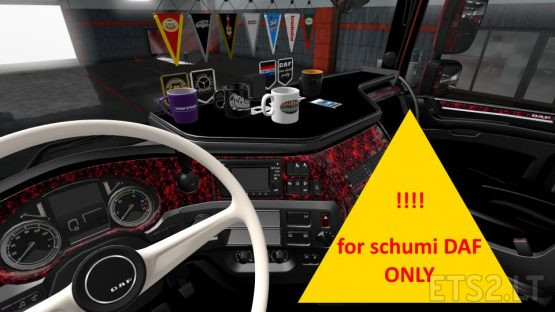 !!!!DO NOT USE WITHOUT SCHUMI!!!!
for normal scs DAF use this link:
https://sharemods.com/77lk15g8ycaj/RED_daf_danish_pluche_interior_by_Polltrans_V1.2.zip.html
here's my mediocre interior for the DAF XF Euro 6 by schumi
it includes:
– new textures
– visible from the outside
– LHD and RHD
– more custom steering wheels
– curtains (DLC toys)
– window pennants, now fixed with own icons(DLC toys)
– Mugs (DLC toys and / or DAF)
– Window lightboxes, truckstar festival
If you have more ideas, questions or problems, DM me on instagram: Polltrans_ets2
WHEN SHARING, PLEASE KEEP THE ORIGINAL LINK.
Credits:
SCS, Polltrans, Schumi, CCT
DOWNLOAD 30 MB