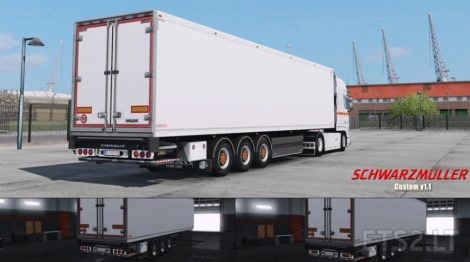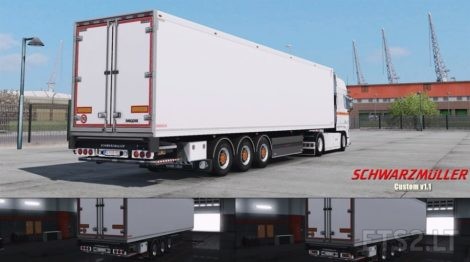 Changes compared to v1:
– Added skin support (sides and back doors), template and example skin setup are included.
– Added two new custom bumper variants with Dhollandia lift (with square lights and with round lights), painted variants also included.
– Added new wide mudflaps under fenders.
– Added paintable toolbox variants (with store wheel or without).
– Changed Carrier "Maxima" decal to Carrier "Vector" (because in real life its a "Vector" model, i was mistaken before).
– Added new logos for back doors (MAN, Iveco, Volvo)
– Added Volvo mudflap for stock bumper.
Note:
It is recommended what you sell your trailer first before buying v1.1 otherwise some upgrades may show incorrectly.
In next version there will paintable pallet box and new fenders variants. It was planned for this version but will be in next update.
Credits:
Axelrol, SCS, 50k, STaNis COne
DOWNLOAD 27 MB