SCS Trailer Patch V1.0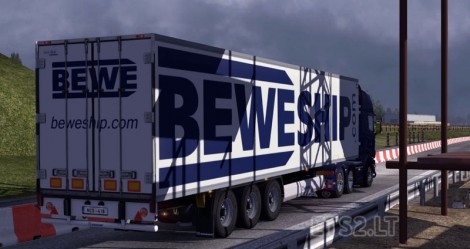 Game ETS2 ver. 1.1.6 ->
Content: 60 different Reefer trailers
60 different Curtainsiders
10 different Bulktankers
10 different Glass trailers
10 different Tilt trailers
1 Inloader trailer
Credits Tailers: SCS: Base trailers
Bora: Rebuild of all trailers
Wheels: Kamaz Tyre, rim
Ventures: High poly wheel for texture rendering
Bora: Rim, hub
Textures SCS: Basic textures
Google: Light, reflector textures
Good-Year: Tyre textures
Jegge: Skins, licenseplates
Nordish: Skins, licenseplates
Kaeseschuh: Skins
Edobeted: Skins
Reyhan: Skins
Bora: Skins, AO texture
Cargo: Buchhave: dding trailer files to cargo
Installation Plug'n Play Add both .scs files to your mod folder
Terms of use: Do not upload to any other filehosting services (I'd like to know the number of downloads)
but feel free to repost the link 😉
SCS-Trailer_Patch_2.scs is locked..!! To prevent anyone from cutting skins, please respect authors wishes..!!
DO NOT TRY TO SELL ANYTHING FROM THIS MOD..!! IT WILL CANCEL ANY FUTURE RELEASES..!!
Skinning: Feel free to create new skins for any trailer you like, templates will be provided in it's own .rar file,
everything needed will be included.
Hopefully you will all enjoy this mod, if you don't there's really not much I can do about it 😀
DOWNLOAD 41 MB
Popular mods