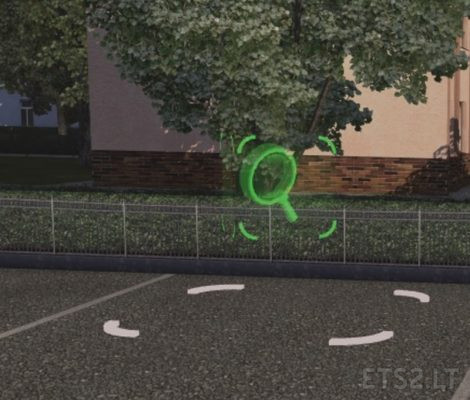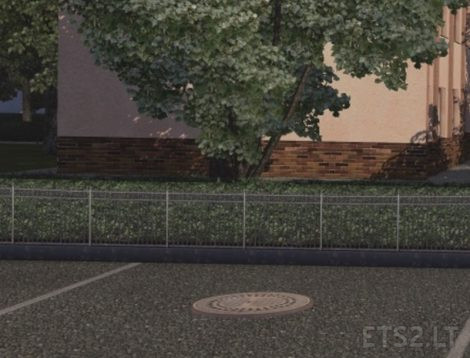 This is for ETS2 1.28 or higher (as of December 2017).
Don't expect it to work for older versions of the game.
The game has very noticeable 3D-animated indicators for taking jobs, getting fuel, visit a garage for repair, and some other purposes. Talking of these bright, green, wobbling animated cubes.
This mod makes them all invisible, following an idea of "newS", who provided such mod in the days of ETS1/GTS. Like it was done with his famous "Gulli-Mod", there will be sewer plates (storm drains, gullys or whatever it is called in your country) placed on the ground, instead.
The symbol of the toll gates is removed without placing a sewer. This is because you have to drive close to the boom barrier anyway, and can hardly miss the spot.
Be warned, you may not want to use this mod until you are experienced enough to find all these spots without much looking. And there might be problems if you use map mods which have made changes to prefabs or sole objects using this stuff, especially if the height of such objects is changed. If spots are invisible due to such a situation, try your best by watching the hint on the navigation assistant (GPS).
The sewer at the entry of the quarry is half-covered by mud and looks a bit displaced. I can't change this without make all the other company-entrance sewers hovering, so I decided to just live with this.
Updated for the Special Transport DLC (oversize cargo).
The second new icon, next to the one where you get oversize jobs, is placed manually into the map, independent of any prefab. So there might be problems wich each individual's height of a sewer plate. It could be placed too low to be seen, or hovering above the asphalt.
Credits:
Reinhard
DOWNLOAD 761 KB