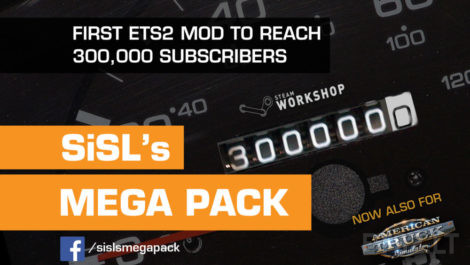 This mod contains over 400+ cabin accessory items suitable for your taste, bringing female and male co-drivers, bobbleheads, accessories for truck driver needs, snacks, electronic devices, computers and tablets, lots of scarves, fresheners, toys and many many more…
Also contains some items that you can easily customize for your own preference like Picture frame, your own mug, your country flag that you can download from official Facebook page Download tab. Detailed info about customization is also on Facebook page
What's new with 2.65?
– Fix Bead Tassel positions
– Projector GPS fix for Next Gen Scanias
Updated horizontal poster with Iwona Blecharczyk Trucking Girl. Many thanks to her for her support in trucking both virtual and real. You can subscribe her Facebook page at https://www.facebook.com/IwonaBlecharczykTruckingGirl/ and Instagram at https://www.instagram.com/iwonablecharczyk_official/
– Added Sirius XM Satallite Radio
– Fix some UK items
– ETS2.LT and Steam Workshop are only places I upload these, if you are going to place it to your website, do not change URL's.
Both in sharemods and modsbase you should see the name SiSL for uploader.
This mod is for 1.31 and over…
You can also make donations here:
https://www.paypal.com/cgi-bin/webscr?cmd=_s-xclick&hosted_button_id=DA2DBHA3XWFLJ
Or you can create your online radio lists from here:
https://radiotrucker.com
Credits:
SiSL
DOWNLOAD 272 MB [Sharemods]
DOWNLOAD 272 MB [Modsbase]