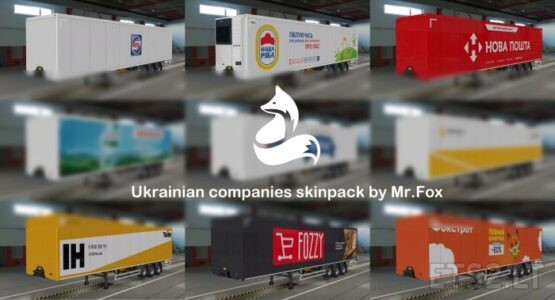 Pack of skins of Ukrainian companies for your trailer(20 pieces).
Autonomous.
All types of couplings are supported.
The set includes skins from the following companies:
– UkrPoshta;
– Our Pock;
– Nova Poshta;
– Morshinskaya;
– IN TIME;
-Chumak;
-Fozzy;
-Foxtrot;
–ATB-Market;
–Globino;
-Rozetka;
-DTEK;
-Metinvest;
-WOG;
-Nibulon;
-Trans Logistic;
-TC Epicenter;
-Trans-Service-1;
-Kronospan;
-Meest Express.
VK group: https://vk.com/ets2foxworkshop
Credits:
Mr.Fox
DOWNLOAD 10 MB
DOWNLOAD 10 MB [mirror]