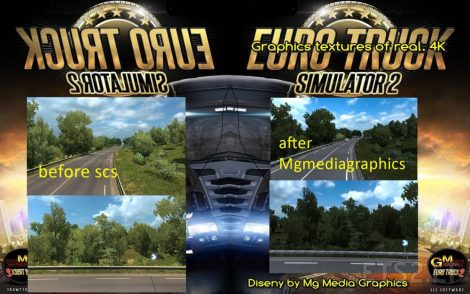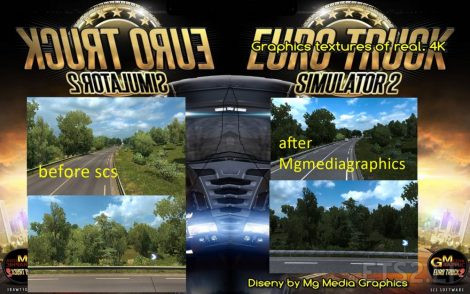 possible compatibility with other graphic mods and climates was corrected …. disable other graphics mods that you have i clima.
priority first in the console of the mods ….. thanks ..
New graphical improvements,
new LED lighting colors and stella in the streetlights at night.
the weather without boom.
new skins and textures the darker vegetation.
new skins and textures of streets, roads.
new skins and textures in the panels of gas stations in quality.
new sking and textures at service stations.
new sking and textures in the hotels.
new removes fears and barriers on the roads.
new textures and improvements of the rain, the biggest and fastest drops in the crystals and falls.
new improvements in the weather more real schedules in different climates of europe.
AI traffic: NO STELLS in the vehicles.
better remdimiento. no download of FPS.
https://www.youtube.com/channel/UChBwkwTBlDULV7tBubOW34A?view_as=subscriber?&ab_channel=EUROTRUCKSIMULATOR2DISE%C3%91OYMODIFICATIONS
Diseny by MG Media Graphics
v.1.30.2.6 compatible with Promods 2.26 and SCS
Credits:
SCS, MG MEDIA GRAPHICS
DOWNLOAD 1.61 GB