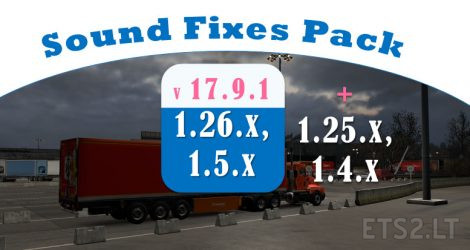 DESCRIPTION
===========
Pack provides improvements to common sounds in the game, making them feel more immersive and real.
The goal of the mod is to make the game's sounds feel like real life!
MINIMUM REQUIREMENTS
======================
Requires higher priority than map mods (e.g. ProMods, RusMap, etc.), AI traffic mods (e.g. Jazzycat's traffic packs) and AI traffic behavior mods (e.g. Piva's traffic density mod, DP's Realistic Traffic, etc.)!
CHANGE LOG v17.9.1
==================
— Sound changes —
Applied real Scania engine and horn sounds for new Scania trucks in Jazzycat's Painted Truck Traffic Pack v2.8. [ETS2 edition]
— Compatibility changes —
Compatible with ProMods 2.15
DP's Realistic Traffic mod v0.1.10 now has support for realistic AI traffic sound ranges. Now there are two traffic mods you can choose from (DP's and Piva's) that support this bonus feature.
Credits:
SCS Software, Drive Safely, antonvezdehod, Ludmilla, Katixa/Irreo, Balamut, AlexeyP, nIGhT-SoN
DOWNLOAD 295 MB
DOWNLOAD 295 MB [Mirror]