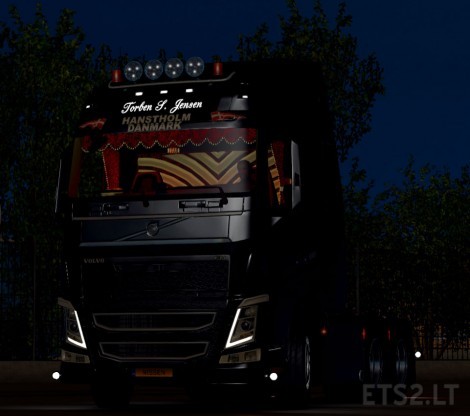 New Volvo FH and FH16 2012
Version 2.4 = Версия: 2.4
Game version 1.22 and up = Версия игры 1.22 и выше
Description = Описание
This is a remake of a default Volvo FH16 2012 by SCS Software with tons of new stuff added,
such as new bumpers, sideskirts, roofbars. New engines and transmissions, reworked chassis,
reworked headlights and many more
New Volvo FH – Skinpack.scs containes several optional paintjobs based on real prototypes
You can also make own painjobs using provided template.
Custom decals described in decals.txt
Truck replaces default Volvo FH 2012, also trucks in quick jobs are modded, both EU and UK
Showroom models are new aswell
Это переделка дефолтной модели Volvo FH16 2012 от SCS Software. Переделано множество
элементов, добавлены новые детали тюнинга, текстуры двигатели и так далее.
В архиве New Volvo FH – Skinpack.scs находятся несколько дополнительных скинов, основанных
на реальных образцах
Вы можете нарисовать свои скины используя темплейт приложенный в архиве
Инструкции по использованию своих декалей – decals.txt
Трак заменяет дефолт, грузовики в "заказах агентств" также переделаны
Authors = Авторы
– base 3D model = базовая 3Д модель: SCS Software
– remake and stuff = переделка и всякие детали: Джо [Eugene]
– wheels = колёса: Kamaz, Ventures, Bora, 50keda
– hadley horns = дудки Hadley: 50keda
– TIR, ADR, etc. = таблички TIR, ADR: DANZ aka d3s
– Adblue tank, skylights= Бак Adblue, скайлайты: Jekich1 (Turbosquid)
– Dashboard display = Цвета дисплея: Knox_xss
– Transmission, gearbox = Трансмиссия, коробки передач: Knox_xss
I am sorry if i forgot someone.
Я прошу прощения, если кого-то забыл.
Installation = Установка
Add .scs file to your mod folder. Don't forget to enable mod in profile selection.
This mod will conflict with mods, which have custom truck_config_scene.sii such as
MB Actros and Antos by DANZ
Просто добавьте .scs файл в папку mod. Не забудьте подключить мод в настройках профиля.
Мод может конфликтовать с другими модами, использующими truck_config_scene.sii
Have fun!
Copyright © 2015 = All Rights Reserved
Credits:
Eugene aka Джо. Nissen
DOWNLOAD 67 MB
https://www.youtube.com/watch?v=cCXqHzXqSoc&feature=youtu.be
https://www.youtube.com/watch?v=RbfOid2nvRw&feature=youtu.be