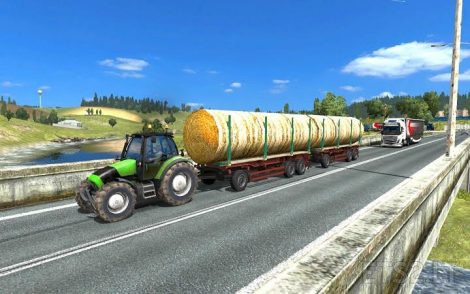 Mod updated. Version 3.1
Added trailers with hay bales.
Fixed smoke length and somke model now separate.
Fixed SCS alone tractor lod model (removed 😆 )
Replaced tractor with new model with beacon lights and tube smoke.
Added new trailers – log trailer and empty log trailer.
Reduced spawn ratio to 0.1
Tractor speed limits 40 km/h
Old trailers use also.
Thanks very much to Todor Alin for tractor and log trailer models.
I thank him for his patience with my requirements by model.
Thanks to AlexeyP for rework default trailer for this mod.
Previous version
Credits:
piva, Todor Alin, AlexeyP, SCS
DOWNLOAD 33 MB [Sharemods]
DOWNLOAD 33 MB [Uploadfiles]