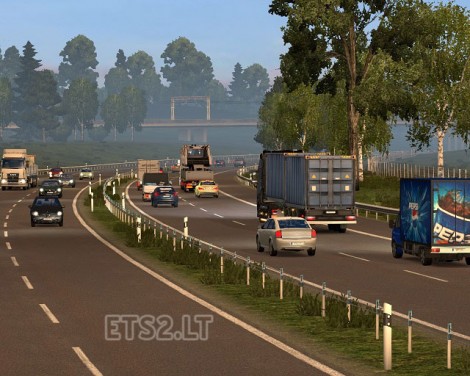 Tested on default map and Promods map, on other not tested, but ready to work with MHAPro, Poland rebuilding and some other.
This mod package contain two mods for traffic density and speedlimits.
TrafficDensity_1_4 – increase traffic density and trucks speedlimits for all countyes up to 90 km per hour
except UK and Russia, in UK – 95 mph on motorway and 110 kmph in Russia
Also added daytime traffic density relief due day and night – more at day less at night
Traffic balance:
71% – cars
27% – trucks
2% – buses
TrafficDensityHarsh_1_4 – get all from TrafficDensity_1_4, but added enable ai traffic overtake on single and double lines on road,
also decrease ai_safety and ai_patience, in that case traffic becomes more aggressive.
Author: piva
DOWNLOAD 82 KB