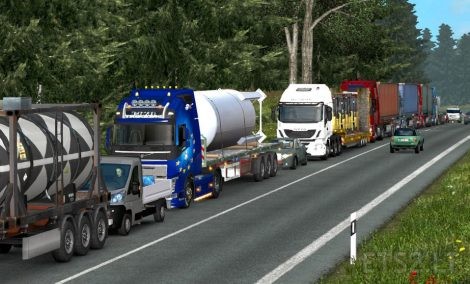 New version of traffic mod.
More faster traffic vehicles, less accidents, more safty, a bit faster on crossroads
/def/game_data.sii
If you have your own game_data.sii file just add line
truck_speed_limit: 120.0 // from ATS
/def/traffic_data.sii
Less accidents, more safty, a bit faster on crossroads, smooth overtaking.
/def/county folder
set speedlimits for local road to to 80 kmph, motorway up to 90 kmph for all countries, except UK
removed max_speed from files, so traffic have more speed.
In that case you can see on some roads truck speedlimit 110 kmph, that new SCS features ?
/def/vehicle/ai
increased truck speed up to 110 kmph
/def/vehicle/traffic_vehicle_type.sii
Here set amount of vehicles by type on road.
/def/world/traffic_lane.sii
Here set traffic density by type of roads
/def/world/traffic_rules.sii
Decrease density in cities
/def/world/load_look*.sii files
Overtaking allowed on double lines on local roads
Author: Piva
DOWNLOAD 360 KB [Sharemods]
DOWNLOAD 360 KB [Uploadfiles]