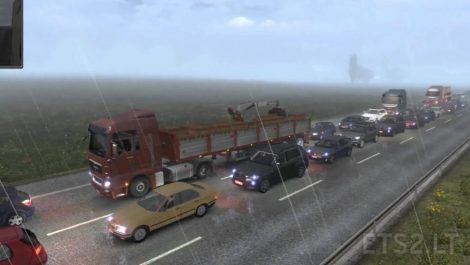 1. Changed Security settings and Courtesy towards a more rigid behavior.
2. New parameters spawn traffic for a more uniform distribution across the roadway. Added slug in the extreme right lane.
3. Now you can finely adjust the ratio of cars and gruzovogo traffic. The emergence of Trucks without trailers.
4. The new parameters of the motion in bends, on gradients, during acceleration, braking, and overtaking.
5. Changed the distance between the traffic at traffic lights and in traffic.
6. Modified headlights, as well as modes of blinking turn signals(now different cars blink in different ways).
7. Changed settings behaviour in case of accidents.
8. There are Russian comments to all settings. To change to open traffic_data.
Installation:
The contents of the archive to unpack and place in a folder mod. All files must be below any maps and traffic packs Jazzy.
Update to 1.27 game version
Tested 1.27
Credits:
Supric, volgavod32
DOWNLOAD MB