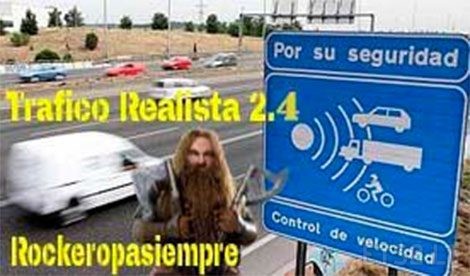 Traffic update mod.
Sounds incorporated with new refueling.
– Drivers little patient with the horn.
– Resumed quickly after each other or you have an accident.
– Reaction time after accident reduced. They leave almost immediately, not to create traffic jams.
– Level IA moderate behavior. Modified caution, patience and time it.
– They warn with longer intermittent lane change, to react before.
– Changes lane highway the longer IA.
– They take longer overtaking and not make such radical changes.
– Spaced the safety distances of cars trucks and buses.
– Speed of the AI in tight corners reduced.
– Modified speed limit on expressways. (All 180 Europe except Germany 300, only for some vehicles IA).
– Increased speed of all vehicles in the game. An average of 170 km / h (not always go to the limit), except:
Audi A3, BMW5, Jaguar and Citroen C4 exceeding 250 km / h. (In Germany you will sanded few others).
– Increased the speed limit for all trucks Game over 100 Km / h.
– Slightly reduced waiting times at traffic lights, Tolls, petrol station exits and junctions, not to create traffic jams reach.
– Increased the amount of general IA, but not to create but moderate lag.
– Modified all speed limits in cities of the original map.
FUNCTIONAL WITH THESE MAPS:
– Added all cities TSM.
– Added cities of South Korea Map.
– Added cities of Hungary Map.
– Added MHAPro cities Map.
– Added ciudade EAA Brazil Map.
CHANGES ADDED TO THE FOLLOWING PACKS IA:
– AI Traffic jazzycat pack.
– AI Traffic brasilian jazzycat pack.
– AI Traffic russian jazzycat pack.
– AI Trafic Bus Jazzycat pack.
– Truck traffic AI jazzycat pack.
– Big Bus AI Solaris36 V4.
– AI Europolice Solaris36 V4.
– Asphalt8_traffic_pack
– Painted truck traffic pack Jazzycat
Ia vehicles added hungary map
TOTAL 824 COMPATIBLE VEHICLES MODIFIED.
NOT MEAN TO BE ADDED 824 VEHICLES, BUT YOUR FILES HAVE BEEN MODIFIED.
COMPATIBLE WITH ALL PACK UP ABOVE MENTIONED IA.
SOUNDS:
– Added some new sounds refueling.
– Added new sounds for AI.
NEW AI_Trafico_Realista_2.4.scs
====================================
Updated traffic Ai pack jazzycat 9 new cars added and modified in speed.
Painted added truck traffic Jazzycat pack 165 in total jazzycat trucks.
Added Asphalt8_traffic_pack 70 sports cars. modified at a slower rate. Salvo 4, the others have come down, are exorbitant speeds between 300 and 400 kilometers per hour, and I preferred to lower them to enjoy this car pack.
Added 3 new sounds refueling. Watch the video.
Ia vehicles added hungary map
Note: To work with hungary map, this mod must be below the map.
Author: Rockeropasiempre
File weight: 40.5 Mb
Respect original link the author please.
regards
Credits:
Rockeropasiempre
DOWNLOAD 40.5 MB