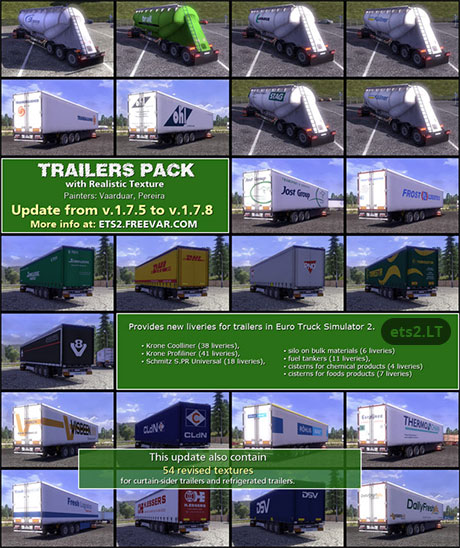 Authors: Vaarduar, Pereira
Description
This mod is available in two versions:
* Basic which adds only new liveries for trailers
* Extended which also introduces more changes to game including
changes of rules in the game of economics.
BASIC VERSION:
1. Provides new liveries for:
* Krone Coolliner (38 liveries),
* Krone Profiliner (41 liveries),
* Schmitz S.PR Universal (18 liveries),
* fuel tankers (11 liveries),
* cisterns for food products (7 liveries),
* cisterns for chemical products (4 liveries)
* silo-trailers on bulk materials (6 liveries)
– all of them will be available in Euro Truck Simulator II !. Full
list of liveries available in this package, can be seen at:
http://ets2.freevar.com,
2. Adds a changes in trafic, including, in adding new cargos visible
on the road,
EXTENDED VERSION also contains:
3. Changing the rules in the game of economics, like: lowering revenue
from shipments of various goods, so that they are more realistic,
4. Reducing the speed to acquire each level of experience.