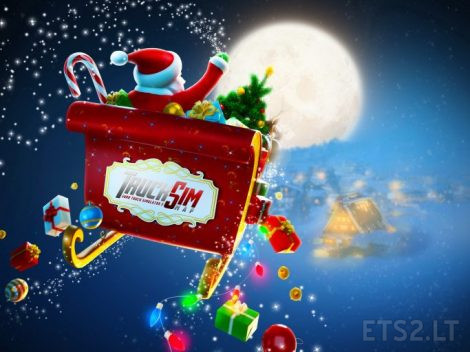 Hi fellow Truckers,
The Trucksim Map Team wishes you a merry christmas with your friends and familys.
Since the new Italy-Addon is available for some time now, it's to us to release a updated version of our map wich works with Italy-Addon. What date would have been better for release than christmas?
But not only that Italy-Addon's now working with TSM is a new feature, but also some new parts in map, wich we will not tell you by now, you've got to find them yourself.
Again, Trucksim Map wishes you all a merry christmas and a lot of fun unpacking and playing our gift for you.
= =
!Attention! Who would like to continue using the TSM map they needed DLC East, Scandinavia, France and Italy!!!
Changes for Version 6.6.2:
– Update to gamepatch version 1.30.x
– several bugfixes
– several new Things (find it out 😉 )
These Mapversion is only for patch version 1.30.x.!!
These Mapversion can't be played with the patch version 1.28.X (or before)!
Here are the original links:
http://sharemods.com/w6rujroqlgmc/TSM_6.6.2.7z.html
http://uploadfiles.eu/odplsn82kdpk/TSM_6.6.2.7z.html
Please respect our work! Don't upload it to other hosters, use always the original links!
Keep on Truckin!
———————————————————————————————-
All Trucksim MODS from Trucksim Map Team are offered under
Attribution-NonCommercial-NoDerivs 3.0 Unported Licence. If you require further permissions you must contact us under TruckSim – Map
Is only allowed to supply this mod via the given downloadlinks! It is
absolutely forbidden to host this mod on any other filehosters.
It is allowed to distribute the original links in public. In this way you support our Project TruckSimMap.
NonCommercial — You may not use the material for commercial purposes.
NoDerivatives — If you remix, transform, or build upon the material, you may not distribute themodified material.
No other Download Hoster – It is only allowed to publish this work with the given Downloadlinksprovided only by the TSM Team.
For Comments, Additions, Gratulations, Wishes and Suggestions you can always contact us via the forum under TruckSim – Map or sent us a mail to [email protected]
Find us on facebook under https://www.facebook.com/TrucksimMap/?ref=aymt_homepage_panel
Credits:
SCS Software, 50keda, FLD/TZ, , kamaz, Reislord, valera_t, satan19990, mAn_Trucker, diverbaer, Carinthian, Herminio Nieves, edson, kheiro, Yughues, Nobiax
DOWNLOAD 1.6 GB [Sharemods]
DOWNLOAD 1.6 GB [Uploadfiles]