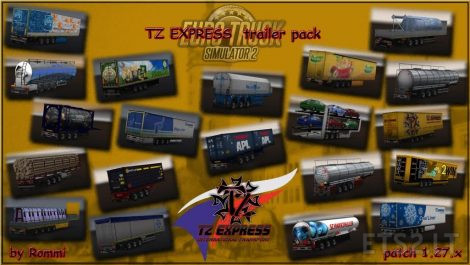 This mod replaces the original SCS trailers for trailers TZ express.
The TZ Express mode are used trailer models from other manufacturers intended for GTS / ETS1. Parts of the models are adapted and complete pøemapovány.
The author models converted for use in ETS2. Manufacturers models thank for the excellent work.
Trailer in this Package:
Aero_dynamic 2win, Bodex_walking_floor, Fliegl_log_trailer, VANHOOL cistern, Glass trailer_langendorf, WIELTON cistern, Kögel MAXX, KRONE Cool Liner, KRONE Mega Liner, Lamberet SR2 futura, Panel transporter, Schmitz S.PR, Schwarzmuller cistern, Sommer Containers, Samro/Nyylcon, Schwarzmuller Jumbo, Kögel flat bed, Magyar kvas cistern, ROLFO cars transport,
Schmitz_S.KO EXPRESS Folding Wall Box, Feldbinder KIP 63.3.
Please not reupload, is original Link !
Credits:
TZ Rommi
DOWNLOAD 217 MB