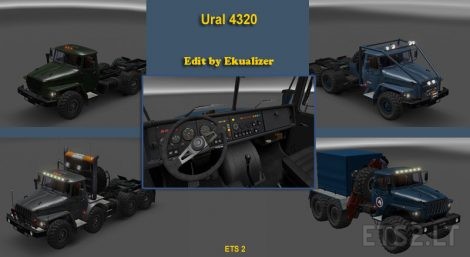 Sold only in the Volvo showroom in Europe
Cabin: 1 piece
Chassis: 6×4 (Ural – 4320), 6×6 (Ural – 44202-30), 8×4 / 4, 8×8 / 4, Polarnik (prepared for the north), Polarnik – M (tandem to the north, the trailer is not supplied)
engines (points maximum): 330 (for three-axle), 400 (for four-axle), 412 (polar)
Transmission: "KamAZ – 141" (5 assists), "KAMAZ-152" (10 assists), "KAMAZ-152b" (10 gears for heavy loads), "ZF-Ecosplit 16 S – ret" (16 speeds, retarder )
Salon: 1 piece
painting: in stock
Airbrush: the bundle includes template (decision a little unusual, but the present instructions)
Optional: Flashing beacon (2 pcs.), light bar (1 piece with additional slots..), the antenna bracket (4 pieces with additional slots..), winch attachment to the rear of the cab with the spare wheel, shovel, cans, boxes under tools, 2 different manipulator, labels and dimensions on the doors, wheels (native in two variants: conventional and north), extra lights, dimensions, beacons, horns
in the cabin: navigation, on-board computer, video recorder, radio
sounds are present
Not the final version, so there are flaws and weaknesses:
Chassis: "northern" option is high, a semi need to enter with caution, for coupling tandem inaccurate by a few millimeters, in the conventional chassis when unhitching the semitrailer can damage
Engines: for trips to the north rather weak, "Uncle" is better not to work (180 horsepower)
Salon: non-native, the animation is not completely done, under the steering wheel switches are superimposed on each other, to version 1.3.1 is not set up the camera
externally: no animation janitors, cabin fever starts with semitrailer clinging "northern" chassis
If you decide to change the type of chassis – in order to avoid relegation will have to buy a truck again.
Updated v3.4
– Adaptation of the truck and trailer to 1.24
Download two files, the first self Ural and the second trailer and DLS National Window Flags!
Authors: Pathfinder, Ekualizer
DOWNLOAD 75 MB Truck
DOWNLOAD 6 MB Trailer
https://www.youtube.com/watch?v=kGl4TmI8p0M