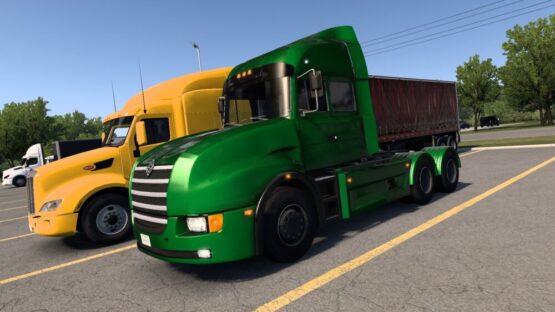 Do not forget to thank the author of the for his work!
QIWI wallet – 79172144785 or nickname – MAXXAGENT.
Thank you for your support and likes!!!
DESCRIPTION:
Completely autonomous.
It is bought in the dealer of modifications "URAL" or in the dealer "Peterbilt".
Has 1 chassis and 1 cab.
3 wiper modes.
The volume of the fuel tank is 850 liters.
Window animation – works.
Advanced hitch – works. (TESTED!)
Full working lighting on cab and skirt.
Last changes:
ADAPTATION to ATS version – 1.48.x
Multiple bugs found and fixed.(FIX ATS)
Added missing elements to the game ATS.(FIX ATS)
Adapted on-board computer. (FIX ATS)
Adapted clutch cables to ATS trailers (FIX)
Added support for multiplayer game.(FIX ATS)
The log in the game is cleared up to 100% (percent)
******************************************************* ***
Fully converted 3D Model for new versions.
The steering wheel is now an accessory item.
Worked out and added new lighting on the cockpit.
Now all the lights on the cockpit work.
Lighting has also been added to the skirt.
Improved low and high beam headlights.
Fixed the work of the on-board computer and navigator.
Improved interior textures. (Interior plastic).
Improved chassis textures and details. (metal + chrome).
Added paint version for all wings.
Updated collision of the whole truck.
Fixed the position of the front and rear wheels.
Added new physics to the chassis.
Added smoke to muffler (ON-OFF Right)
Updated all truck sounds.
Added new engines and new sounds.
Added new transmissions.
Added gear and brake sounds.
Updated in company, dealer and truck gallery.
Updated Ural-6464 icon in the truck gallery
Latest test on ATS version: 1.48.2.6s.
Credits:
Authors: RTA-Mods.
Adaptation and convert in ATS v1.48: @MaxX_Agent@.
Improvements and fixes: @MaxX_Agent@.
DOWNLOAD 171 MB