Volvo FH 2012 Offroader by Marcel1801 v 0.6 BETA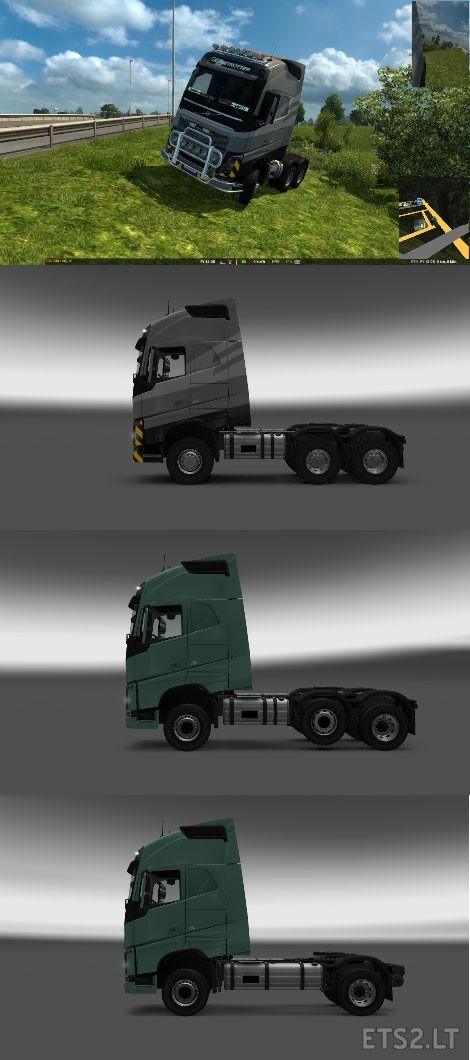 Changelog:
v0.1beta:
-Added 4×4 and 6×6 Chassis.
-Added working Foglights to Truck.
v0.2beta:
-Added bigger Fuel Tanks to 4×4 (2200L/581.1gal) and 6×6 (1400L/369.8gal).
v0.3beta:
-Added NEW BIGGER Engine "D16G825-Chipped" (which replaces the D15C540 Engine).
v0.4beta:
-Added some new Offroad-Tires and Rims (Rims might not work on v1.23+ but no worries Tires will work).
v0.5beta:
-Changed some Values and Names.
-Gave Offroad-Tires Value for "Fuel Efficiency", "Noise level" and "Grip on Wet ground".
-Changed Engine which gets replaced by the "D16G825-Chipped" to "D16G600".
-Changed Torque of the new Engine from 4000nm to 4550nm.
v0.6beta:
-Added more Offroad-Chassis ("4×4 (Lifted)","6×6 (Lifted)","6×4/6 Midlift (Lifted)").
-Changed Name of "4×4" and "6×6" Chassis (added it v0.1b) to "4×4 (Not Lifted)" and "6×6 (Not Lifted)".
-Size of Fueltank is now in Chassis' Names. (example:"4×4 (Lifted) 2200L")
Authors: Marcel1801, SCS-Software
DOWNLOAD 67 MB
Popular mods