Wild Sounds for all Trucks v 0.92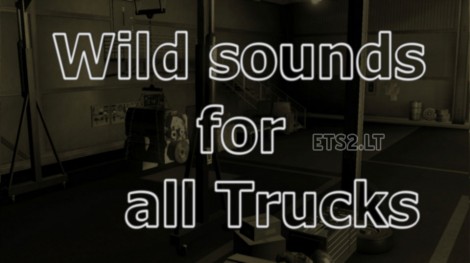 This Mod changes the sounds of all the trucks in the wild sound.
– Replace many sounds.
e.g.engine sound, exhaust sound exhaust brake air brake sound and shifting sound horn sound…
– Rebalanced many sounds volume for Rumble stripe, all noises in the cabin.
e.g.gear noises,tire noises,suspension noises,turbine,break…
– Brinker retain the original sound.
Change Log in v0.92:
– Work in the Scania RJL(RS,T)
– Add the V8 engine sound(Scania R,Streamline,RJL,Mercedes Actros2014)
– Rebalanced the volume for all sounds(outside,stick)
Change Log in v0.91:
– Replaced engine sound(inside and out side)
– Rebalanced the volume for engine sound of dependent on RPM(inside)
– Rebalanced the volume for all sounds(outside)
Tested on version 1.22.1.1s
Checked game log: no error
Author: R2limited
DOWNLOAD 8 MB [Sharemods]
DOWNLOAD 8 MB [Mediafire]
Popular mods