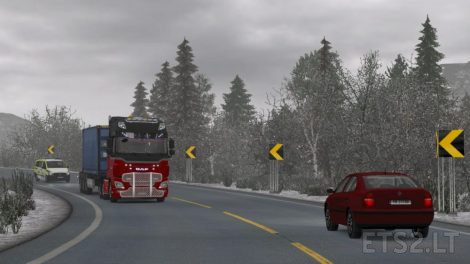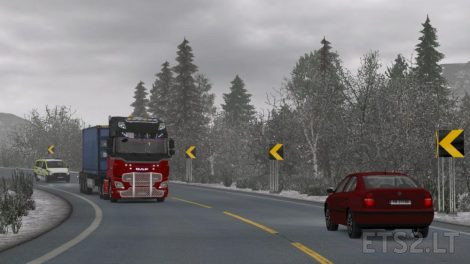 Beta version for add-on for using Realistic Graphics Mod with Frosty Winter from Grimes.
– The cloudy weather has been added, less sunny weather;
– Changed the lighting to suitable for winter;
– Removed cumulus clouds;
– Temperature is below zero;
– Mod includes Darker Graphics Addon and Promods Compatibility Addon, they need to be disabled, if used.
With other winter modes, correct operation and correct lighting are not guaranteed.
Compatible with ProMods 2.25 and RusMap. With other maps not tested.
Game version is 1.30. RGM version is 1.9.2-2.0.1. Frosty Winter version is 6.5.
The order of mods installation in the mod-manager (the first item has the highest priority):
1. Winter Add-on;
2. Add-ons for Frosty Winter, if necessary;
3. Realistic Graphics Mod;
4. Frosty Winter.
Version 0.9.3:
– Tweaked the fog to cloudless weather.
– Improved dusk in cloudy weather
Author topic
http://truck-sim.club/topic/32512-zimnii-addon-dlia-realistic-graphics-mod-i-moroznaia-zima-093-130x-upd-020118/
Credits:
Itsuken, SGate, Supric, Frkn64, Grimes
DOWNLOAD 2 MB