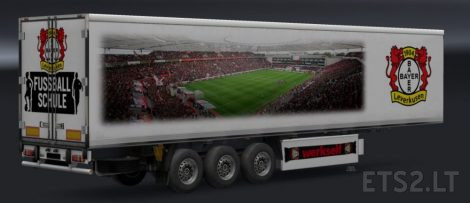 Fan Trailer Skin für Bayer 04 Leverkusen Fans.
Farbe: Weiß
Cargo: Stückgut
Gewicht: 20000kg – 20t
Traffic: on
Version: 1.30.x by Xelo
Bald folgt das komplette Packet der Bundesligisten …..
follow me @ https://www.facebook.com/XeloDesign/
Tested on ETS2 V1.30 Compatible with all DLC.
Have Fun with it
Thanks for the download!
Credits:
Xelo
DOWNLOAD 9 MB