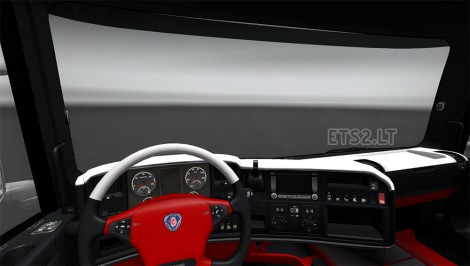 Tested Version:1.21
Have fun!
Credits:
fufi
DOWNLOAD 235 KB
Version 1.1 of my Scania R Primary Blue Interior.
– Now pic and text appears in the mod manager.
– Added carbon elements.
Tested with game versions 1.21. Works whit all versions with mod manager.
Note:
Give this mod a higher priority than the old DAF XF interiors mods!
Please don't re-upload! Respect download-Link. Thanks!
Credits:
xubu
DOWNLOAD 0.3 MB
Interior Mercedes 2014-2015 in the style of AMG.
In orange and black hue.
Replaces the default.
Supports tuning of interior.
There is a manifest for mod Manager.
Tested on version 1.21.x.
Authors: SCS, Karen Grigoryan
DOWNLOAD 4 MB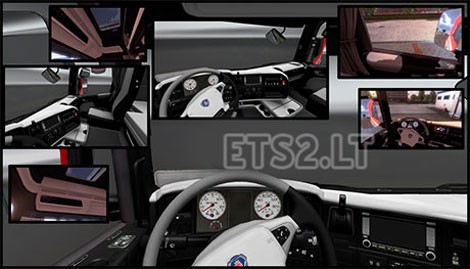 Black White Interior for Scania R Truck
Version 1.21
Author: Daniil
DOWNLOAD 1 MB
This mod adds Black Interior on Volvo FH16 2012
Credits:
Reyizz
DOWNLOAD 23.7 MB
Adds a standalone interior for DAF XF Euro 6 with colored insert in the color of the truck
There is also a salon UK
Support for DLC Cabin Accessories
Paint mettalik and skins do not support!
Authors: SCS, Матроскін
DOWNLOAD 5 MB