Interiors
Custom interior for the Mercedes Actros, including:
a) Concept dashboard, speedometer
b) Plastics replaced with leathers
c) new carpets
Credits:
Cookos
DOWNLOAD 1.2 MB
.

This is Interior mod for Mercedes Truck
Including:
– Concept dashboard for the Mercedes Actros, replacing the original. (It is work in progress so there will be refinements in the near future)
– Plastics replaced with leather
– New carpets
Author: Cookos
DOWNLOAD 4 MB
.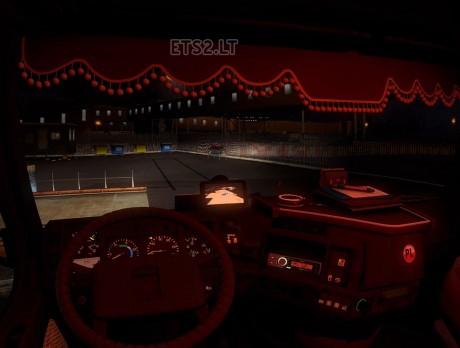 Version 4.0:
– Now updated version, and works fine with game 1.15 version
– Mod now works with truck mods (with all trucks mods, also works with originaly trucks)
– 6 colors of lights
– Blue
– Red
– Yellow
– Green
– White (LED white)
– Bright blue
Authors: Oswald, Rytopenre
DOWNLOAD 33 KB
.
Different interior for 2012 Volvo
Credits:
Prv0lv0
DOWNLOAD 28.3 MB
.
Fix for version 1.15 and steering wheel bug
Other smal changes
I no guarantee work in 1.14-1.16
furkan 61-original interior
KINGM- Bulgarian re-skin
Credits:
furkan 61; KINGM
DOWNLOAD 35.4 MB
.
My first work. White and dark blue interior design for Scania R 2009 trucks, tested and used in 1.15.1s.
Credits:
Ado81
.
Freightliner Coronado Original Interior
Credits:
Миша228
DOWNLOAD 4.8 MB
.