This is a skin for the dashboardgauges for all Volvo FH16 trucks in ETS2. Night lighting is included, check on the video for more details.
Credits:
Cookos
DOWNLOAD 0.5 MB
Interior for Scania R 1000 Consept Truck
Authors: ETS2MOD, Modteam, Blade1974
DOWNLOAD 99 MB

Interior for Scania Streamline Truck
Authors: SCS, furkan61
DOWNLOAD 24 MB
Last and final version of my Stralis interior, I change the dashboard, and some internals textures.
Like the older version (Closer Stralis Interior), there is three choices:
– Dashboard textures only
– Interior textures only
– Both
Cheers !
Credits:
Roudou
DOWNLOAD 0.9 MB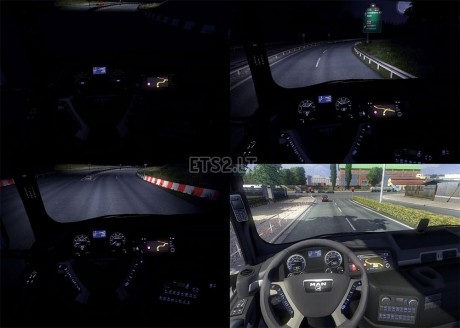 Man TGX new gauges
leather interior
new satnav system
blue dashboard ambient light at night
carbon decal on steering wheel
Credits:
Cookos
DOWNLOAD 0.7 MB