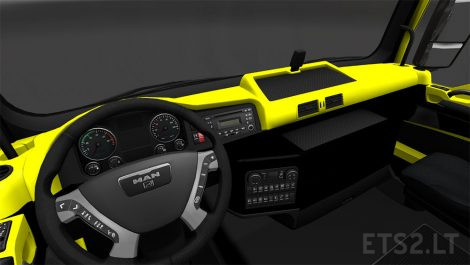 MAN TGX Yellow Black Interior
Interior tested on 1.25 work super ?
ENJOY
Credits:
Gile004
DOWNLOAD 1 MB
Key featuresКлючевые особенности:
-Mod changes lots of interior and exterior parts materials and textures for all vanilla trucks
-Mod aims to improve visual experience of the ETS2 by enabling high quality textures
-Most of textures based on real interiors and exterior truck parts
-Added new windshield wipers modes for all trucks
-Improved looks of chrome, metal, plastic and glass parts of the trucks
-Improved truck dashboards, light systems.
Mod was tested on ver. 1.25.x. Not tested with previous versions!
Donate
All my mods are free to download and will be distributed this way in the future too. Hovewer, If you appreciate what i`m doing and want to support my work, you can transfer any amount of money, using PayPal on this email: [email protected]
All donations are voluntarily! Every donation counts! Thank you!
Please do not reupload this mod to other filehostings and keep original link! For suppport, search for a topic at: http://forum.scssoft.com/viewtopic.php?f=35&t=193763
Authors: AlexeyP, SCS Software
DOWNLOAD 303 MB
This mod adds 2x Adds Dark and Metal interiors to stock DAF XF 105.
Credits to SCS and 50keda for DAF XF. Requires 1.25 and over.
Reminder: This is a custom mod made for personal use, so please no requests.
It is distributed as it is from Workshop. No guarantee to update in future
Authors: SiSL, SCS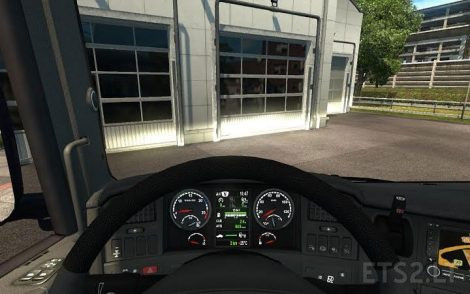 I'm sorry in last mod
V8 logo have same file in all 3 mods.
Now problem fixed.
Credits:
Piva
This mod adds 5 Steering Wheel for scania r and streamline the Steering Wheel are original mercedez and iveco was only replacement and original logo by scania logo, I hope you like it.
Might have problems with other mods flyers in this case buy one and another until only wants
Credits:
Habdorn
DOWNLOAD 2.3 MB
Interior is "A" class
2 color option chairs
Tested version 1.25
Authors: glu_esk, Klains
DOWNLOAD 4 MB