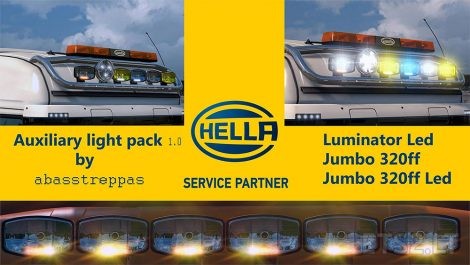 This pack includes:
Hella Luminator Led
Hella Jumbo 320ff
Hella Jumbo 320ff Led
Three versions of "bodies"
Stock black
Chrome
Paint (base_colour)
Hella Jumbo 320ff and 320ff Led comes with three different glass colours
Clear
Yellow
Blue
Only Jumbo 320ff Led with clear glass has amber leds
All Jumbo 320ff Led also has a flash led that activates when use of beacon
I have also included a modded version of "no bottomgrill" for RJL Scania RS, which flips the 4 middle hookups around and therefore you can "hang" the lamps there
You can share this on other sites but KEEP ORIGINAL DOWNLOAD LINK AND CREDITS! NO NOT REUPLOAD TO OTHER FILE SHARING SITES! You can freely edit mod for personal use.
Publishing edited mod without my (abasstreppas) permission is forbidden!
Tested in 1.24.x
Credits:
abasstreppas
DOWNLOAD 9 MB
https://www.youtube.com/watch?v=Oc1YDTkf8k0