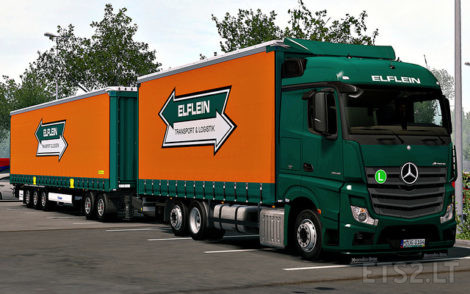 Version 1.1:
FROM NOW ON, KRONE MEGALINER BY SOGARD3 IS MANDATORY TO MAKE THIS MOD WORK!
This update is mainly focused on the 6×2 low deck chassis
Other chassis will get the "love" too in the following updates
Completely changed the truck model;
-Integrated Mercedes MP4 edit by ValheinXL;
-Added different plastic and painted parts;
-Added front truck shields (L, G, TIR, etc);
-Added side markers (krone style);
-Added roof slots (both GigaSpace and StreamSpace);
-Added Halogen and Xenon type of headlights;
-Added front mudflaps;
-Added MP4 style bumper (rigid 6×4);
-Added DRL slot-option;
-Added 2 rear fenders variants;
-Added container carrier (Krone BoxLiner type);
-(template for the boxliner in: vehicletruckupgradecontainermercedes_killertemplate_4096x2048.dds and replace eurogoodies.dds and save it as DDS DXT1(No Alpha).
-Added cab spoilers;
-Added interior slots for board computer and gps;
-Added several types of paintjobs (krone and others);
-Added 6×2 Low Deck Chassis configuration;
-Added Krone rear bumper style;
-Added Krone Curtain transporter for 6×2 Low Deck;
-Added 3 types of fuel tanks (small, normal, big);
-Added Fire Extinguisher and water tank (both sides);
-Added 4 types of sideskirts (simple, double, reflective stripes);
-And other things that I can't remember. (too many )
You can share on other sites but please keep original download link.
CREDITS:
– ValheinXL
– Alexandru_Andrey (KiLLeR)
– Sogard3
– SCS Software
– and all others who contributed in this mod
– B787(tester)
– Schwedentrucker_09(tester)
– ActrosMP3(tester)
– Wippy (tester)
SCS forum link: https://forum.scssoft.com/viewtopic.php?f=35&t=267400
Credits:
– ValheinXL – Alexandru_Andrey (KiLLeR) – Sogard3 – SCS Software – and all others who contributed in this mod – B787(tester) – Schwedentrucker_09(tester) – ActrosMP3(tester) – Wippy (tester)
DOWNLOAD 92 MB