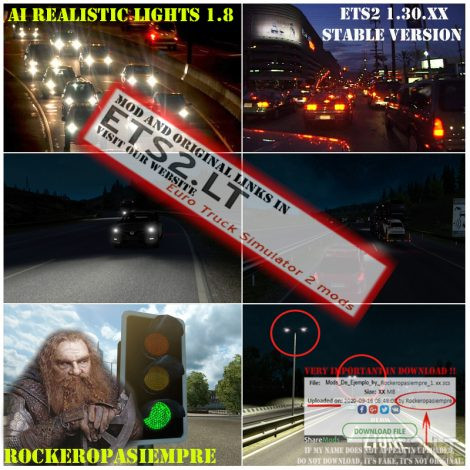 Update of mod.
PROHIBITED TO RESUB THE MOD TO ANY SERVER WITHOUT PERMISSIONS.
Changes in this version:
– Compatible with the original map.
– Compatible with all Dlc's, including Italy, France and Scandinavia.
– Semaphores from Italy converted to LEDs.
– Adapted files with obsolete attributes for version 1.30.XX Stable version.
– Converted the .mat and .pmg files to the new version. (Clean gamelog).
– Modified the angles of the lights of the headlights and the intermittences of all the cars and trucks of the AI.
– Flashers now flash at different times for each mode of trucks, trailers and vehicles of the AI.
– The times and lights are different even within the same category. (For example, all cars and trucks do not look alike).
Weight of the file: 2,6 Mb
Author: Rockeropasiempre
regards
Credits:
Rockeropasiempre
DOWNLOAD 3 MB