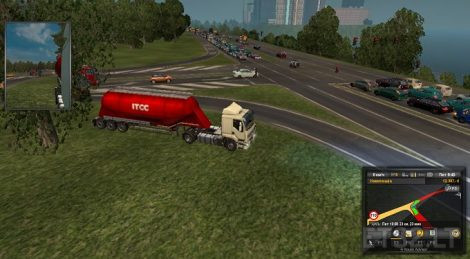 Better traffic flow for:
Promods:
http://sharemods.com/mkfgn2k1rf27/Better_traffic_flow_for_Promods_2.27.zip.html
Southern region:
http://sharemods.com/2vfi4zmgigu6/Better_traffic_flow_for_Southern_region_7.2.zip.html
Project Balkans:
http://sharemods.com/9d9jzc5mci59/Better_traffic_flow_for_Project_Balkans_2.8.zip.html
Better traffic flow for Rusmap is in Realistic Russian highways.
This mod is mostly designed to those players who like high traffic and are bored with one lane-interchanges and stopping on tolls. However, high traffic causes traffic jams and slower traffic flow. My mod will increase the speed/fluidity of the traffic flow through the following modifications:
– I added semaphores on all crossroads where are at least 2 entrances with 2 lanes. I didn't do it on some crossroads in cities, between two crossroads with semaphores. I am sorry for traffic lights in air, adding poles takes too much time. For me, the most important is that semaphores are working. As some of SCS' crossroads (highway at-grade crossroads) don't have semaphores, use:
Promods def
Promods assets
Promods model 1
Promods model 2
Promods model 3
– I replaced most of (on Promods all) one-lane interchanges with two-lanes of same type.
– I removed barriers from all tolls which have no lanes for electronic payment. (optional on Promods and Project Balkans)
Main link will lead you to page where you can choose files which you want to download, ask any question, report bug/crash and follow my work. There are all my mods.
Credits:
Brainiac