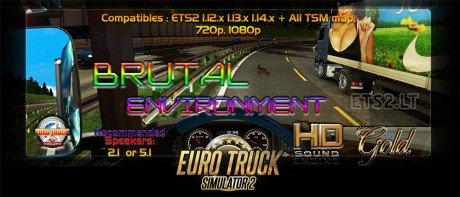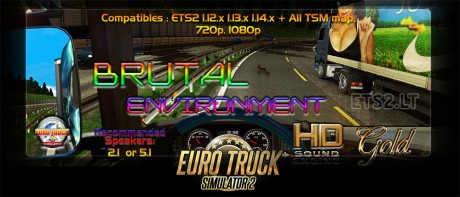 Key Aspects of the Gold version:
Primary protocol:
– Enhanced gaming Experience
Secondary protocol:
– Enhanced PlayAbility
1: remastered all sounds ( all truck engine V8 got bass ) interior, exterior and many many environment sound.
2: Optimizing all sounds of 2.1 & 5.1 speaker systems.
3: Faster FPS than of factory default game!!! better fps parameter to play Brutal Gold engine using + 10-20% 720p and 1080p!!! ( used "Fraps" we Measured program)
4: Increased weather changes.
5: further changes skybox.
6: TSM additional textures expansion.
7: bug fixes, many new small additions.
8: my Stewen edition engines and transmissions reduced 1994 HP, and get good settings.
9: running operation without "errors" and "warnings"
10: driving, listen 2.1 or 5.1 sound system, enjoy the game my Brutal HD + sound engines Gold!
Credits:
Stewen
ZX-Brutal-Environment-ONLY-HD-GRAPHIC-ENGINE-Gold-Yellow Road lines (1.20 GB)
DOWNLOAD
ZX-Brutal-Environment-ONLY-HD-GRAPHIC-ENGINE-Gold-White Road lines (1.20 GB)
DOWNLOAD
ZX-Brutal-Environment-ONLY-SOUND-ENGINE-GOLD (248 MB)
DOWNLOAD
OTHER LINKS:
Only USE ETS2 patch 1.13.x & older
ZX-Brutal-Environment-ETS2-Patch-1.13-and-older-EXTERNAL-SOUNDS-VOLUME-UP (10 KB)
DOWNLOAD
Only USE ETS2 patch 1.14.x NEW
ZX-Brutal-Environment-ETS2-Patch-1.14-NEW!!!-EXTERNAL-SOUNDS-VOLUME-UP (10 KB)
DOWNLOAD
BONUS LINKS:
Only USE ETS2 patch 1.13.x & older
ZX-Brutal-Environment-ETS2-Patch-1.13-and-older-EXTERNAL-SOUNDS-VOLUME-UP + NO DAMAGE (10 KB)
DOWNLOAD
Only USE ETS2 patch 1.14.x NEW
ZX-Brutal-Environment-ETS2-Patch-1.14-NEW!!!-EXTERNAL-SOUNDS-VOLUME-UP + NO DAMAGE (10 KB)
DOWNLOAD
https://www.youtube.com/watch?v=JkcM_KBub2U