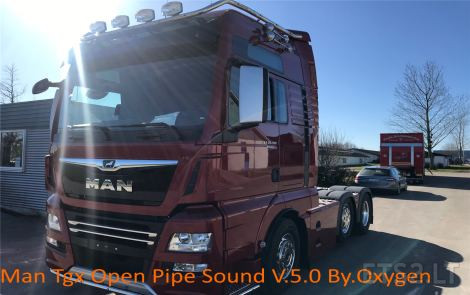 Hİ I share the man tgx open pipe sound mode, which I've worked with for a long time
I made these sounds from scratch. it's based on the real truck
sound works for SCS man Tgx,E6
Patch: 1.36+
Credits:
Oxygen
DOWNLOAD 24 MB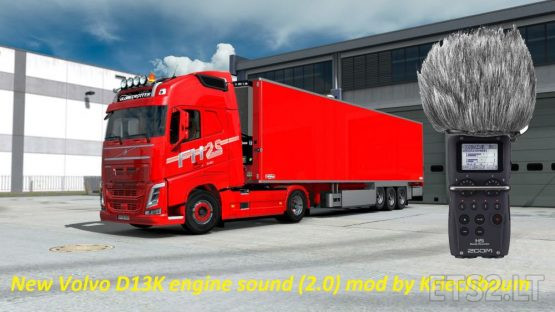 Hi all and happy new year !
I've finished my new Volvo D13K engine sound mod.
It has been re-recorded from scratch with a Zoom H5 recorder. The result is pretty good !
Every precision of 100rpm's range has been recorded and put in game with proper pitches values. This means the sound has the best quality possible at EVERY rpm's range.
i've also recorded a Scania R490 (stock engine) and later i'll do the sound the same way as this one.
it works for the SCS and Eugene's Volvo reworked.
The truck in the video is private, the trailer is from MatDom, you can find it on the official SCS forum, trailers mods.
Credits:
Kriechbaum
DOWNLOAD 4 MB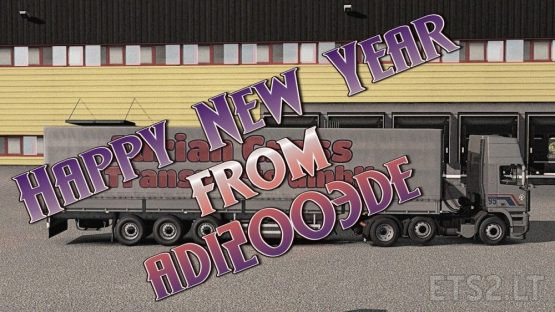 the 6 cylinder sound runs from patch 1.36 on the following vehicles: All SCS standard trucks!
Scania RS R4 T and T4 by RJL
MAN TGX By Madster
MAN TGX2010 by XBS
50 Keda DAF XF
Volvo fh2012 ohaha
Volvo FH 13 + 16 Classic by Ohaha
Credits:
adi2003de, kriechbaum and many more
DOWNLOAD 28 MB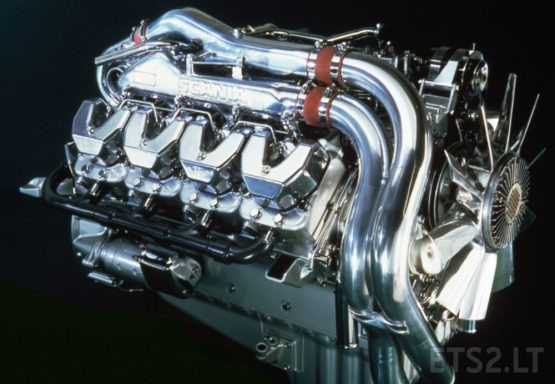 This is my final Version of my Next Stage V8 Soundmods! IT IS JUST ANOTHER VERSION!
First the engine sound was slowed down by 250 revs to get even closer to reality. And I lowered it in the interior by about 40% of the volume.
Why? Because it sounds awesome. And because you can now hear the things that are on the side. Wind sounds, rolling noises. And in times of "Euro6", everything is a bit quieter anyway, isn't it?
It was also paid attention to the fact that the sounds between inside and outside still differ.
The sound will have its own Common Sounds and the volumes will be adjusted to the sound to create a complete sound experience.
Original Presentation: ONLY ON ETS2.LT !!!
If you see the presentation on a other Url. Respect the work and don´t Download it!
Original Downloadlink:
https://sharemods.com/u5xii1kz5pe5/Scania_V8_op_next_stage_final_by_adi2003de.scs.html
Happy New Year Guys 🙂
Regards adi2003de
Credits:
adi2003de, kriechbaum and many more
DOWNLOAD 15 MB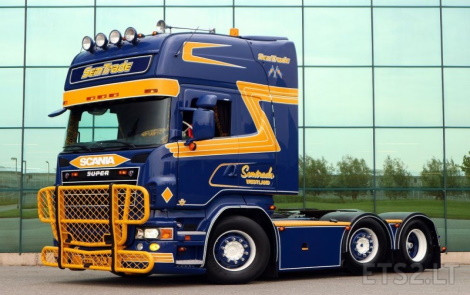 Hello,
My "deep" variant of the V8 is here.
I've remade it almost from scratch.
it works for : The R, Streamline, RJL (R,T and 4 series).
-Patch: 1.36+
Credits:
Oxygen
DOWNLOAD 24 MB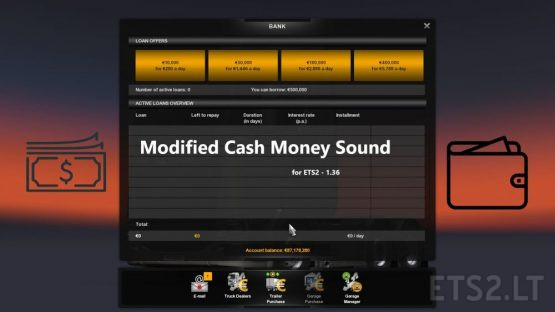 Modified Cash Money Sound Mod! For ETS2 1.36.x
You are bored of the standard Cash Money Sound when you buy your new truck?
Or when you repair it?
…
Then use this awesome sound mod!
IMPORTANT: MOD Reupload NOT ALLOWED!
————————————————————————————————-
READ THE READ ME! File for MORE INFORMATIONS!
READ THE READ ME! File for MORE INFORMATIONS!
Credits:
Panone
DOWNLOAD 37 KB