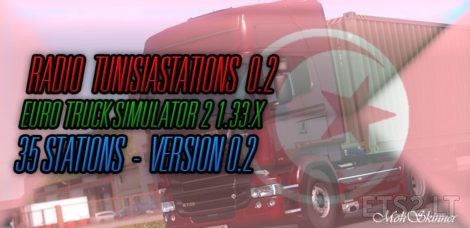 Extract winrar then put the scs file in ↓
——————————————–
My Documents → Euro Truck Simulator 2
——————————————–
Tested 1.33
——————————————–
Follow my page :
—————-
https://www.facebook.com/MohSkinner/
for more awesome skins & Radios & Horn & Tutorials
——————————————–
Liste Stations :
—————-
01 – Tunisia – El Kef
02 – Tunisia – Mosiuque FM – DJ's
03 – Tunisia – 360 Sfax
04 – Tunisia – Babnet Tunisie
05 – Tunisia – DiwanFm
06 – Tunisia – Jawhara FM
07 – Tunisia – Jeunes
08 – Tunisia – KnOOz FM
09 – Tunisia – ML Tunis 93.4
10 – Tunisia – Misk FM
11 – Tunisia – Noise FM Tunisia
12 – Tunisia – Oxygene Bizerte
13 – Tunisia – Platine
14 – Tunisia – RTCI
15 – Tunisia – Radio Gafsa
16 – Tunisia – Radio Ifm
17 – Tunisia – Sabra FM
18 – Tunisia – Sfax
19 – Tunisia – Shems FM
20 – Tunisia – Sunset Radio
21 – Tunisia – Tataouine
22 – Tunisia – TunisiaMed
23 – Tunisia – Tunisie Culturelle
24 – Tunisia – Tunisienne
25 – Tunisia – Tunisienne RTCI
26 – Tunisia – Mosaique FM – Tarab
27 – Tunisia – Mosaique FM – Tounsi
28 – Tunisia – Mosaique FM – Gold
29 – Tunisia – Nationale
30 – Tunisia – Nationale 2
31 – Tunisia – Monastir
32 – Tunisia – Ulysse FM
33 – Tunisia – ZanZanA Server 1
34 – Tunisia – ZanZanA WebradiO
35 – Tunisia – Zitouna Adhkar
36 – Tunisia – Zitouna FM 91.4
Credits:
MohSkinner
DOWNLOAD 2 KB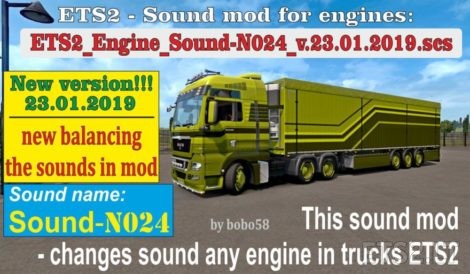 Euro Truck Simulator 2 ver.1.3.x
New version!!! sound mod for engine: << ETS2_Engine_Sound-N024_v.23.01.2019.scs >>
(new balancing the sounds in mod)
This mod changes sound any engine in trucks ETS2.
List SCS trusks:
– DAF.xf
– DAF.xf_euro6
– Iveco.hiway
– Iveco.stralis
– MAN.tgx
– Mercedes.actros
– Mercedes.actros2014
– Renault.magnum
– Renault.premium
– Scania.r
– Scania.r_2016
– Scania.s_2016
– Scania.streamline
– Volvo.fh16
– Volvo.fh16_2012
List other trucks:
– MAN.f2000
– MAN.tgx_euro6
– MAN.tgx2010
– Scania.r4
– Scania.rs
– Scania.t
– Scania.t4
– Scania.g
– Scania.p
= = = = = = = = = = = = =
____ USER MANUAL:
ATTENTION! These mods do not change the game process.
You can use mod at any time, it's enough to leave the game and connect – disconnect or replace mod then continue the game.
For correct operation, use any one, but only one mod.
When creating this mods, were used parts of mods – Kriechbaum, adi2003de, Oxygen, Drive Safely, Piva and other mods, authors I do not know.
= = = = = = = = = = = = =
bobo58 / 23.01.2018
Credits:
bobo58
DOWNLOAD 5 MB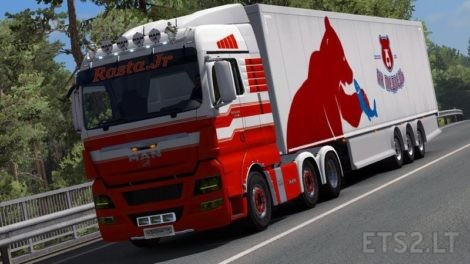 There was a request from different people on the release of a WIP MAN TGX Euro5 Open Pipe Sound Mod, So here it is, completely rebuilt and improved. It works for the MAN TGX by SCS and also the MAN TGX Euro5 and Euro6 by MADSter.
Forum
https://forum.scssoft.com/viewtopic.php?f=211&t=267711
Please Use Original Link and ENJOY!
Credits:
Japheth Rasta.Jr(Me), Kriechbaum, SCS.
DOWNLOAD 4 MB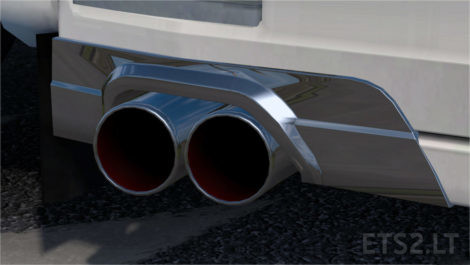 This mod add Pipe Sound For All Standart Truck
the base of this sound mod is created by SCS and I reworked those sounds and add lots of real life sounds like "park brake, wiper sounds, horn and air horn, trailer release sound, trailer
It works on all versions
Credits:
walemi
DOWNLOAD 5 MB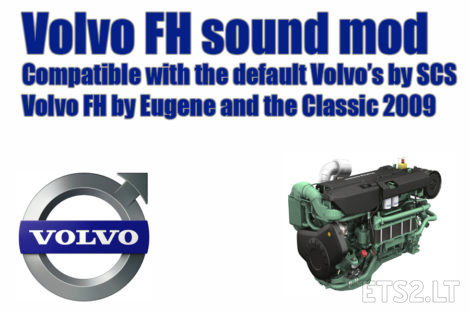 I release my Volvo FH sound mod which is made of the basis sound of the Renault Premium, Renault and Volvo using the same engines and the sound is a little different but most of the people don't hear the differents, so this mod contains one Volvo engine sound, please do not ask for a D13 or something, it's a waste of time for me to make a sound which is almost compare to each other.
The basis sound is made by Kriechbaum but I reworked the sound files to make it sound like a real life Volvo, it's compatible with the default SCS trucks and the FH Classic and Eugene his Volvo FH.
Keep the original dropbox link and updates only on the official SCS forum.
Credits:
Leen & Kriechbaum
DOWNLOAD 20 MB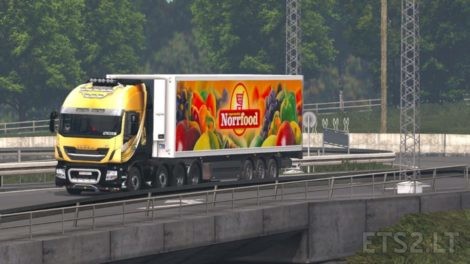 Base sounds: SCS sounds and some Youtube videos.
I hope you enjoy!
Thanks!
Ver. 1.0.1:
— Problem that occurred with the internal and external sound of the revving of the engine in between 600 rpm and 800 rpm has been reduced.
Forum
https://forum.scssoft.com/viewtopic.php?f=211&t=267527
Credits:
ricardogt, SCS
DOWNLOAD 2 MB