Hello everyone I share my Save Game for version 1.36
Follow me :
https://www.youtube.com/channel/UCNQUUf21ntYwtktsE5xUCHg/?sub_confirmation=1
No DLC !
Money 25.369.614 Euro
Garage 73
Level 52 ( Legendary) (252.049 EXP )
Support Multiplayer
—–Install : Extract .rar / C:UsersUSERDocumentsEuro Truck Simulator 2profiles
DONATION :
https://paypal.me/alexdedu
Credits:
ALEXD
DOWNLOAD 2 MB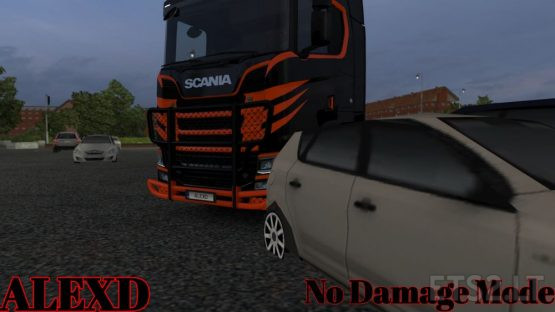 New version
This mod requires ETS2 1.27.x – 1.36.x.
For truck, trailer and cargo
follow me:
YouTube : https://www.youtube.com/channel/UCNQUUf21ntYwtktsE5xUCHg/?sub_confirmation=1
If you want to support me : https://paypal.me/alexdedu
Credits:
ALEXD
DOWNLOAD 54 KB

Info:
– This mod add in bumper grill extension for snow plow.
– On extension you have one slot where you can chose 2 option of snow plow (up/down)
– Mod based on ETS2 1.36v.
– If you edit this mod please keep credts
– If you share this mod please keep original link and credits
https://forum.scssoft.com/viewtopic.php?f=175&t=280974
Credits:
Teklic
DOWNLOAD 569 KB

Changelog
v3.1.1:
– Fixed "darker smoke" when used with ProMods Maps
– Improved rain.mat file
*Compatible with all maps
*Tested with 1.36.x (DX11)
IMPORTANT! : This mod works with other Graphics/Weather Mods: Realistic Graphics Mod, ProjectNG, NaturaLux… but you need place REALISTIC RAIN ON TOP in priority!
Also works with season mods by Grimes (Autumn, Summer etc.) but don't use with Frosty Winter!
This mod does not use the file "game_data.sii" , but include "int_sound_config" file, so i recommend use "Sound Fixes Pack" for a better experience! (Place Realistic Rain above)
Forum thread for questions & feedback: https://forum.scssoft.com/viewtopic.php?f=34&t=271773
Credits:
SCS, Darkcaptain, Frkn64, Cipinho,
DOWNLOAD 6 MB

profile grand utopia map by mygodness 1.7 1.36 3.567.000.000 euros by rodonitcho mods 1.36
Credits:
rodonitcho mods
DOWNLOAD 9 KB

profile map eaa by restanho 5.3 1.36 3.567.000.000 euros by rodonitcho mods 1.36
Credits:
rodonitcho mods
DOWNLOAD 9 KB