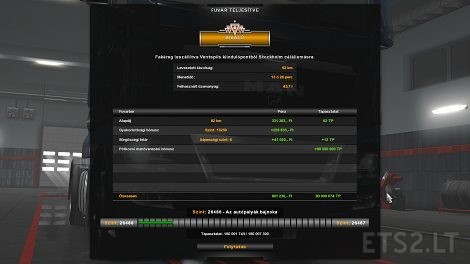 Tested all version!
Money: 600.000.000€
Xp: Parking=xp
Please don't upload!
Credits:
ben975
DOWNLOAD 3 KB
This mod simulates late autumn/early winter weather and environment and replaces older textures with higher res versions.
Features
Random grey sky, misty and sunny weather
Old vegetation types replaced by new ones across maps
Old roads, fields and grass replaced with higher res versions
Improved rain and wheel spray
No thunder or lightning
Leafless vegetation
HDR Bloom reduced
Late Autumn/Early Winter daylight hours
Appropriate temperature readings
No harvesters
Compatibility latest version: 1.33
Works with Promods, Rusmap, TSM, MHA and many others.
Compatible with all map DLCs.
Changes in 3.2
Updated for 1.33 & Baltic DLC
Vegetation improvements
Place Late Autumn/Early Winter above sound mods in Mod Manager to remove summer sounds like insect noises.
Recommended settings
HDR: Enabled
Vegetation Detail: High
Grass Density: High
Important!!
Late Autumn/Early Winter is a weather and graphics mod so other graphics, weather and HDR mods should be disabled to avoid conflicts, issues and crashes.
If you are using Next-Gen then only use the base part of that mod.
Late Autumn/Early Winter should be given a HIGH priority in Mod Manager.
Credits:
Grimes
I have made a working dashboard camera(dashcam) accessory for all trucks. It is an item found in Windshield Set. It can be used on default trucks as well as moded trucks which supports Windshield Set.
Credits:
Ghost99
DOWNLOAD 469 KB
This is Profile Supported V1.33x
● Level 93 [legend]
●1300 million cash
● You have all cities discovered!
● 540.000 XP.
● 118 Garages.
●All garages bought and expanded to 5 places
** Without used any DLC **
Credits:
Rodriguez
DOWNLOAD 4 MB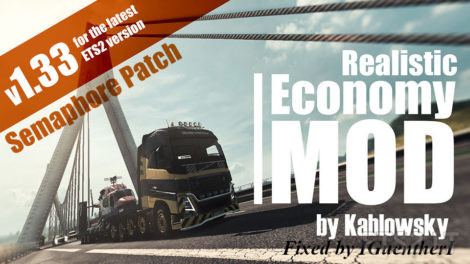 https://forum.scssoft.com/viewtopic.php?f=34&t=223960
Here is the original author of this mod.
I tried my best to make it work for version 1.33, keep in mind i'm an amateuer inmodding.
Read the Mod description in the game or do so by extracting the scs file
Not much changed, as i tried to stay true to the original mod.
Although only supports for Promods!
Credits:
Kablowsky, Fix by Guenther
DOWNLOAD 368 KB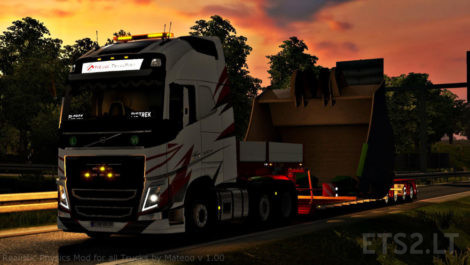 This is a personal physics mod, made by my friend Mateoo which grand me permission to share it wider recipient group. So enjoy it!
Tested on 1.33 game version.
Credits:
Mateoo
DOWNLOAD 704 KB