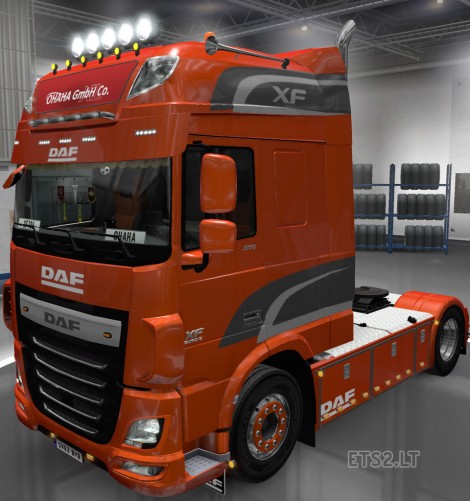 plastic and painted optional variants for
upper engine grid (with lights and various signs slots)
lower engine grid
bumper (with high beam projectors and lights slots)
cabin fender (side protection)
rear wheel arches
side skirts available for 6xX chassis variants
windshield frame
engine air intake
stock (plastic and painted)
custom (with custom lights slots)
upper cabin back custom plate (with custom lights slots)
vertical exhaust pipes (one currently available. more will be built, probably)
reworked chassis configurations
option to remove cabin spoilers / hoods, or have a raised spoiler on B cab.
rear and front mudflaps
illuminated decal for SuperSpace cabin and roof grills w/ and w/o light box.
etc. 😉
The mod will share the same folder as the XF 105 mod, so the following link is the same:
Notes___________________
this truck is a replacement version.
Credits_________________
truck: SCS Software
tweaks and add-ons: ohaha
beta-testing and support: GT-Mike
definitions support: CobraBlue6
light-mask support: MisterOlla
* Respect the download link *
https://www.youtube.com/watch?v=LoPOS6T7mDM